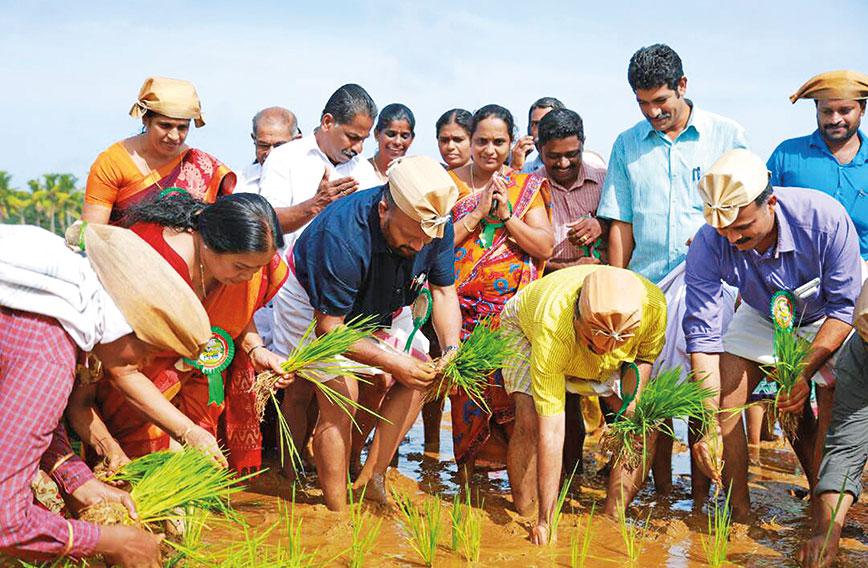 Kerala Agriculture Minister Sri V S Sunil Kumar (centre) and Sri James Mathew, MLA (right), transplanting paddy in Mayyil
1. Miracle with Rice
Mayyil Grama Panchayat is in Irikkur block and Thaliparamba assembly constituency of Kannur district. The Panchayat is now famous for paddy production and processing. In August 2016, the Panchayat launched a Total Rice Campaign or 'Sampoorna Nellu Krishi' to revive paddy farming. All sections of the society like farmers, agricultural scientists, government agencies, politicians, youth, and women joined together to make the programme a great success. They   have doubled paddy cultivation from 300 hectares in 2016-17 to 600 hectares (1st and 2nd Crop together) in 2017-18 and production of paddy increased 4.5 times from 645 tonnes to 3,000 tonnes. Mayyil today has its own farmer-producer organisation (FPO) called the Mayyil Rice Producers' Company (MRPC), which brands, mills, and markets its own rice The introduction of a mobile paddy processing unit (mini rice mill) made all the difference. Powered with a 3 HP motor, it can convert 120 kg of paddy into rice in an hour. Thirteen mini rice mills, including a mobile one, are now churning out various types of rice and another 50 mini mills are in the pipeline.
2. Model Agro Service Centre
Koothuparamba Model Agro Service Centre is considred as a model initiative in the field of agriculture in Kannur district.  The Centre is situated at Cheruvancheri in Pattiam Grama Panchayat under Koothuparamba Block Panchayat.
The Centre, which has been functioning under the aegis of Department of Agriculture, aims at providing technical support to farmers, providing HYV seeds, facilitating better marketing opportunities, encouraging mechanisation, and above all increasing production as well as productivity.
The activities of Agro Service Centre have now been extended to the fields of dairy development, aquaculture, animal husbandry, apiculture, and mushroom cultivation.