Agriculture and Allied Sectors
India is the second largest fish producing nation in the world, with a share of 5.4 per cent of global fish production. India is also a major producer of Fish through aquaculture and ranks second in the world after China. Total fish production in India has increased since 1991. From 3.84 Million Tonnes (MT) in 1991, it increased to 10.06 MT in 2014-15 (provisional figures), of which 6.57 MT was from Inland sector and 3.49 MT was from Marine sector. Inland fish production constitutes about 65 per cent in total fish production of the country. Annual growth rate of production has also been high in the Inland sector. Though marine fish production has increased, the growth rate is very low during recent years.
Fisheries sector contributes significantly to the national economy while providing livelihood to approximately 8.74 lakh fishermen families in the country. Contribution of fisheries sector to the GDP of India is around 1 per cent. Share of fisheries in the GDP from Agriculture, Forestry and Fishing is 5.5 per cent. The sector has been recognized as a powerful income and employment generator as it stimulates growth of a number of subsidiary industries. It is also a source of cheap and nutritious food besides being a source of foreign exchange. During 2015-16, export of marine products from India was 9,45,892 tonnes valued at 30,420.82 crore. Compared to the previous fiscal, a decline has been recorded in the quantity and value of exports. Fisheries is recognized as a promising sub-sector of agriculture and allied activities in India.
The fishermen population of the state for 2015-16 is estimated as 10.24 lakh based on the projected population of Kerala as on October 1,2015. Population of the state as per Census 2011 is 33.4 million. Hence the fishermen population is around 3.1 per cent of the state population. They reside in 222 marine fishing villages and 113 inland fishing villages of the state. Out of this, 7.88 lakh fishermen belong to Marine sector while 2.36 lakh fishermen belong to Inland sector. Alappuzha (1.90 lakh) is the district with largest fishermen population, followed by Thiruvananthapuram (1.70 lakh) and Ernakulam (1.36 lakh). The district wise details of fishermen population are given in Appendix 2.38. The number of Active fishermen in the state during 2015-16 was 2,33,126. Active fishermen are those fishermen who are engaged in fishing for their livelihood and are registered with Kerala Fishermen's Welfare Fund Board. During 2015-16, the number of allied workers in fisheries was 77,694. Allied workers are those engaged in fishery related activities for livelihood and are registered with Kerala Fishermen's Welfare Fund Board.
Fisheries and aquaculture contributes around 8.9 percentage of the Gross State Value Added (GSVA) from the primary sector which is of significance to the state economy. The Gross State Value Added of the State has been increasing over years, but the share of primary sector and that of fisheries sector has been declining. The share of fisheries sector in the State Value Added has declined from 1.12 percent in 2011-12 to 1.04 per cent in 2015-16. The share of Primary Sector in GSVA has declined from 15.20 per cent in 2011-12 to 11.58 percent in 2015-16. The contribution of fisheries sector in GSVA is given in Appendix 2.39.
Marine fish production of India during the year 2014-15 has provisionally been estimated as 3.49 million tones with an increase of about 0.05 million tonnes compared to the estimate for the last year. As per estimates of 2013-14, among the states, Gujarat was the highest contributor of Marine fish production followed by Kerala. In total fish production in 2014-15, Andhra Pradesh was the highest contributor and Kerala stands at 5th position. Marine Fish landings in Kerala during 2015-16 were 5.17 lakh tonnes. Marine fish landing in Kerala has been declining continuously since 2011-12, with the exception of a marginal increase in 2014-15. High value species among the fish catch is less. However, significant among them are Seer fish, Prawn, Ribbon fish and Mackerel. The quality of these high value species in the total catch ultimately decides the income of the fishermen. The species wise marine fish landings in Kerala from 2012-13 to 2015-16 are shown in Appendix 2.40.
Trend in Production
As per estimates of 2013-14, among the maritime states in India, Kerala occupies the second position in marine fish production. The total fish production in Kerala during 2015-16 was 7.27 lakh metric tonnes. The marine fishery resources of the state is said to have almost attained the optimum level of production. At National level about 65 per cent of the total fish production is contributed by the inland sector, however at the state level, the share of inland sector is relatively less than the marine sector. The current level of Inland fish production is 2.1 lakh tones, and it shows an increase of about 4 percent over the previous year. The species-wise inland fish production in Kerala from 2012-13 to 2015-16 are shown in Appendix 2.41.
Indian marine fisheries is also passing through a crisis due to over capacity and open access nature. During 2014-15, India's total fish production is provisionally estimated to be 10.06 million tonnes of which 3.49 million tonnes was from marine sector and 6.58 million tonnes was from Inland sector (Figure 2.9).
Marine and Inland Fish Production - All India and Kerala
Marine and Inland Fish Production All India (2014-15)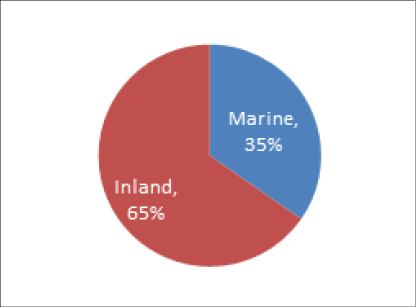 Marine and Inland Fish Production, Kerala (2015-16)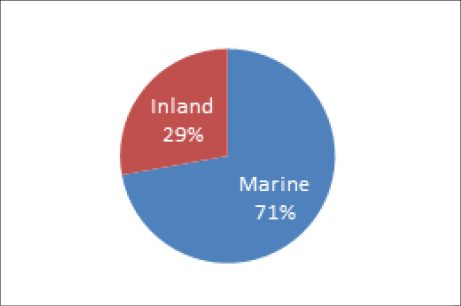 The marine fish production in Kerala has tended to fluctuate while the inland fish production has showed signs of improvement from 1999-2000. Marine fish production has decreased from 5.24 lakh tonnes in 2014-15 to 5.17 lakh tonnes in 2015-16. Inland production has been increasing during the recent years. During 2015-16, the share of inland fish production in the total fish production of the state was 29 percent. Kerala has not utilized its potential in Inland fishing. Kerala has over 7 per cent of the water bodies in the country, but its share in Inland fishing is lower than that of many other states. Details of fish production for the last 5 years are given in Appendix 2.42 and Figure 2.10.
Fish Production in Kerala (2011-12 to 2015-16)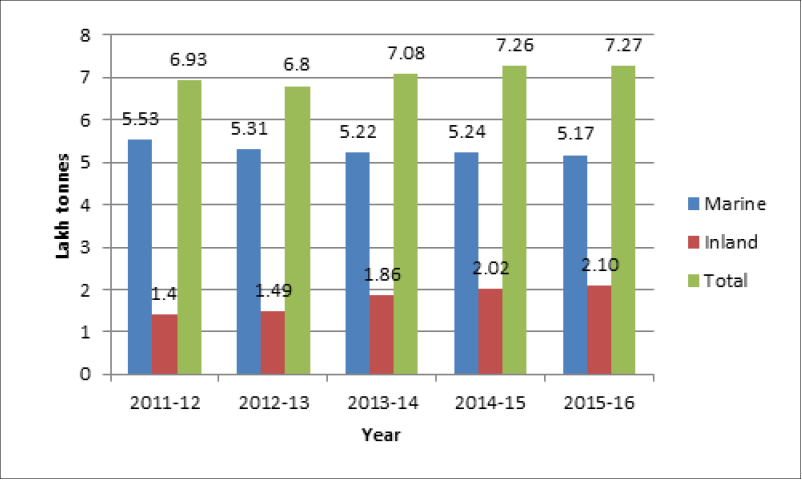 Source: Directorate of Fisheries, Government of Kerala
An analysis of the figures of District wise fish production in Kerala shows that the district of Kollam is the leading producer of Marine fish followed by Kozhikode and Ernakulam. These 3 districts together contribute more than 50 per cent of the total marine fish production in the state. Alappuzha, Thrissur and Palakkad are the leading districts in the case of inland fish production occupying the first, second and third positions respectively. If we look at total fish production, the leading producer is the district of Alappuzha followed by Ernakulam and Kozhikode respectively. Details are provided in Appendix 2.43. Kerala has made vital contributions in the export of marine products from the country. During 2015-16, export of marine products from Kerala was 1,49,138 tonnes valued at 4644.42 crore. Compared to the previous fiscal, a decline has been recorded in the quantity and value of Exports. Details are provided in Appendix 2.44.
The key elements of the 12th plan in the fisheries sector are launching of a comprehensive coastal area development project covering infrastructure, housing, sanitation, drinking water and livelihood, action plans for augmenting inland fish production to 2 lakh tones by the end of the plan from 1.17 lakh tones, enhancement of seed production, strengthening of post-harvest infrastructure like better fish landing and handling facilities, cold chains, storage facilities as well as marketing facilities for the development of the sector and improvement in the production of value added products, micro enterprises, credit support and coverage under social security. Annual Plans are formulated keeping in mind the priorities set under the Five Year Plans, and accordingly, the fourth year plan programme of the XIIth five year plan was completed in 2015-16.
Performance Review under XIIth Plan and Annual Plan 2015-16
The projected outlay during the 12th plan under the fisheries sector was 1471 crore (including Coastal Area Development) which accounts to 1.44 percent of the total state plan outlay and 16.66 percent of the outlay under Agriculture and Allied Sectors. The actual amount budgeted during the five year period of the 12th Plan from 2012-13 to 2016-17 was 1419.9 crore and the expenditure reported up to October 2016 was 972 crore (68.4 per cent). Year-wise details are given in the Table 2.6.
Table 2.6
Outlay and Expenditure of Fisheries and Coastal Area Development, in crore
Sector

12th FYP

projected outlay

Annual Plan 2012-13

Annual Plan 2013-14

Annual Plan 2014-15

Annual Plan 2015-16

Annual Plan 2016-17

Total

Outlay

Exp

Outlay

Exp

Outlay

Exp

Outlay

Exp

Outlay

Exp

Outlay

Exp

Fisheries

1014

142

138

158

135

177

147

178

143

169.3

54.26

824.9

617.47

Special

Area Devt.

457

64

49

58

49

87

47

189

202

197

8.16

595

355.16

Total

1471

206

187

216

184

264

194

367

345

366.3

62.42

1419.9

972.63
Source: Budget Programme Books, Government of Kerala and Planspace Kerala
The total expenditure under state plan schemes during 2015-16 was 345.03 crore, which is 94 per cent of the state plan outlay. The outlay on CSS schemes was 59.17 crore and the expenditure during this period was 63.01 crore. The outlay on scheme receiving NCDC Assistance was 18 crore. The expenditure reported was 18 crore (100 per cent). The outlay and expenditure for various types of schemes implemented in the fisheries sub sector during 2014-15 and 2015-16 are given in Appendix 2.45. An external monitoring mechanism may be adopted for evaluating the impact of major schemes implemented by various agencies. Multiplicity of agencies and schemes pose the threat of overlapping of schemes implemented by various agencies which may be avoided.
Key Initiatives during 2016-17
Inland fish production is an area which holds promise for future in Kerala. Insufficient availability of good quality fish seeds was identified as a major problem. To increase the production of fish seeds and to ensure quality, it is required to strengthen the existing hatcheries, nurseries, fish farms and construct new units to the existing infrastructure. During 2016-17, an amount of 15.99 crore was allocated for the scheme. Additionally, an amount of 5.5 crore was also provided for setting up demonstration units for innovative aquaculture practices.
In order to address the relative backwardness of the fisher folk population and the fishing community, the state of Kerala had initiated a new scheme 'Basic infrastructural facilities and human development of fisher folk' in 2015-16 with an outlay of 181.97 crore. The outlay to the scheme was 184.60 in 2016-17 where 100 crore was provided exclusively for the Housing requirements of the community.
The following are the new initiatives and priorities envisaged by the State Government
 Prime importance to protecting the traditional rights of the fishermen over fishery resources and coastal areas.
Fishermen vulnerable to sea erosion will be rehabilitated to safe locations on priority basis
Thrust will be given for ensuring basic amenities such as pure drinking water, sanitary toilets and waste management systems in all fishing villages
Concerted efforts will be made for empowering traditional fishermen for deep sea fishing
The State shall be made self-sufficient in fish seed production by augmenting existing production capacity of fish seed farms and hatcheries and establishing new seed farms.
Schemes will be introduced to tap the potential in inland fisheries
Matsyabhavans will be made more functional by providing basic infrastructure facilities and manpower.
It is proposed to enact a comprehensive Aquarian Reforms Act to protect the rights of active fishermen in the ownership of the fishing implements, entry to sea and access to marine resources.
The Kerala Marine Fishing Regulation Act, 1980 (KMFR Act, 1980) will be amended for addressing the present challenges in maritime fisheries resource conservation.
Fishermen Welfare and Development Societies will be strengthened and re-organised and the activities of the Kerala Fishermen Debt Relief Commission will be revamped.
A special package will be devised for the integrated development of the coastal area of the State.
Major Developmental Programmes
The Plan schemes of the Government under Fisheries sector can broadly be classified into the following categories –
Marine fisheries development
Inland fisheries development
Extension, Training & service delivery
Modernisation of markets and value addition
Social Security to fishermen
Development of Fishing Harbours and management
Scheme for the Fisheries University
Coastal Area Development
Ranching is undertaken for enhancing the stock of important species. 162 lakh numbers of fish/prawn seeds were released into wild environment and 1839 lakh seeds were released under controlled environment during the year 2015-16.
The 2nd phase of Matsyasamrudhi project was started in 2015-16 for the period 2015-2018. During 2015-16, 7626.89 Ha of fresh water, 3438.05 Ha padasekharam and 2561.39 Ha of brackish water area were brought under fish/prawn/shrimp culture under this programme. 54 ha area was brought under karimeen culture. Mussel farming was also carried out by 2327 units.
In 2015-16, as a part of addressing issues prevailing in the housing sector of fishermen, funds were provided to 4990 fishermen for construction of new houses. To address the issue of Sanitation, during 2015-16, assistance at the rate of 17,500/- was sanctioned to 3600 fishermen for constructing toilets. In 2015-16, under the Plan scheme 'Basic Infrastructure facilities and human development of fisherfolk', Kerala State Coastal Area Development Corporation is engaged in the implementation of 3 Health infrastructure, 1 library construction, 2 sanitation works, 1 Livelihood support scheme, 5 Educational infrastructure, and 4 Anganwadis
Fishing Harbour
The Government of Kerala has so far completed construction work of 14 fishing harbours and the works of 10 fishing harbours are progressing. The completed fishing harbours include Thankassery, Neendakara, Kayamkulam, Munambam, Beypore, Puthiyappa, Chombal, Moplabay, Azheekal, Ponnani, and Thottappally. The On-going Fishing Harbour works include Vizhinjam, Chethi, Arthungal, Chettuvai, Thanur, Koyilandi, Vellayil, Thalai, and Manjeswaram . During 2015-16, Cheruvathur fishing harbour was commissioned in the month of August. However,some additional works are pending. During 2016-17, Plan support was extended to Fishing Harbours like Arthungal, Vellayil, Thanoor, Manjeswaram, and Koyilandi. Funds were also provided to complete and operationalize Chettuvai, Cheruvathur and Thalai Fishing Harbours. Support was also provided to Munakkakadavu Fish Landing Centre. Construction of fishing harbours was previously undertaken with the help of State fund, fund from central government (50 per cent and 75 per cent CSS), fund under central schemes like RKVY, and fund from agencies like NABARD (under RIDF). However, recent changes in the funding pattern of CSS schemes introduced by the central government would have a direct bearing on the completion of fishing harbours in Kerala. The state would find the funding of such large projects a big hurdle.
During 2016-17, 26.24 crore was provided for Fishing Harbours under the state Plan. Expenditure reported till October 2016 was Rs 15.28 crore. Time bound completion schedules for all ongoing fishing harbours need to be worked out. It is also reported that many of the Fishing Harbours are not in usable condition, and are not operational. Steps need to be taken to ensure that Fishing Harbours are operational throughout the year. The progress of ongoing fishing harbours is shown in Appendix 2.46
Total revenue collected from fishing harbours and fish landing centres has shown a sharp fall of 14 per cent from 490.96 lakh in 2014-15 to 422.23 lakh in 2015-16. Highest revenue collection has been from Neendakara harbour since 2012-13. Puthiyappa fishing harbour is the second highest revenue earner in 2015-16. Together, Neendakara and Puthiyappa contributed about 65 per cent of the total revenue collection from fishing harbours and fish landing centres in Kerala. Compared to 2014-15, revenue collection has increased in 2015-16 in Fishing Harbours like Neendakara, Puthiyappa, Beypore, Vizhinjam, Chettuva, and Cheruvathur. The details are given in Appendix 2.47.
NABARD assisted schemes
Apart from the construction of Fishing Harbours, NABARD funds have been used for works like construction of Fish Landing centres, roads, bridges, locker rooms, and walkways, NABARD under RIDF XV had sanctioned 11 works including Fishing Harbour at Chellanam, Perumathura Thazhampally Bridge, Kappad-koyilandi Road, and Locker room at Thangasseri fishing harbour. Ten works have been completed. Ten projects including 7 bridges, fish landing centres and walk way amounting to 62.91 crore was sanctioned under RIDF XVII. Two bridges and a Fish Landing centre have been completed, and the rest are progressing. Works sanctioned under RIDF XIX include 12 fish landing centres, replenishment of Neendakara fishing harbor, 8 bridge works and 2 road works amounting to 76.72 crore. 8 Fish Landing centres, 2 bridges and and one road work have been completed and the rest are progressing. Works for 2 roads and a bridge totaling 7.82 crore have been sanctioned under RIDF XX. An outlay of 20 crore was provided in 2016-17 for NABARD assisted RIDF projects and an expenditure of 11.79 crore has been reported till September 2016.
 Social Security and livelihood support to Fishermen Community
Government of Kerala has placed emphasis on various schemes implemented to ensure social security and livelihood support to fishermen community. Apart from the Fisheries Department, Matsyafed and Kerala Fisherman's Welfare Fund Board also implement such schemes. Plan support is also available for many such schemes. Some of these schemes are Centrally Sponsored Schemes. Schemes include those for Housing, Insurance,and Pension besides measures which enable fishermen to earn livelihood on a continuous basis.
 In order to save fisherfolk from exploitation of money lenders 21,085 fisher women were given interest free loan. 46,814 fishermen were given old age pension with an amount of 3,524.77 lakh. Widow pension was provided to 9,181 women for which an amount of 671.03 lakh was provided. 394.31 lakh was spent for providing group accident insurance scheme for fishermen and 137.801 lakh was spent for providing group accident insurance scheme for allied workers. Educational concessions were given to 63,099 fishermen children. During 2015-16, support was provided for livelihood activities of 257 new fisher-woman groups for social empowerment of fisherwomen. Details of such schemes implemented by the Department and KFWFB are provided in Appendix 2.48 and Appendix 2.49 respectively. The state has been able to provide greater assistance to the fishermen community, and expand the social security net over the years.
Matsyafed
 Matsyafed is an apex federation of 665 primary level Fishermen Development Welfare Co-operative Societies, of which 340 are in marine sector, 193 are in inland sector and 132 women co-operative societies. The total membership in these societies is more than 4.45 lakh. The Authorized share capital of the federation is 150 crore. Matsyafed has organized Self Help Groups within the fishing community and has developed among them, the habit of savings. These groups have mobilized money as thrift. By providing micro finance and interest free loans, Matsyafed has made a significant impact in the area of micro credit. Matsyafed has also been successful in enabling the fishermen have access to vital fishing inputs. The achievement of various programmes implemented by Matsyafed is given in Appendix 2.50.
 In the 11th five year plan, marine fisheries sector achieved growth especially in the area of infrastructure development. The 12th plan strategy was to ensure sustainable growth of Fish and Fisheries for nutrition, food security and economic growth by ensuring proper utilization of infrastructure created in the plan. Special emphasis is being given to conservation and management of inshore fishery resources, enhancement of offshore marine fish production, maximum utilization of harvested fish and value addition.
 As the state moves into its 13th Five Year Plan, Fisheries sector is looked upon with interest due to its immense potential to contribute positively towards development. The sector needs to take upon itself objectives like (a) nutritional security through enhancing fish production and (b) poverty reduction among fisherfolk by ensuring distribution of production benefits to the community on a sustainable and equitable basis. These must be achieved keeping in mind the challenges posed by climate change and degradation of environment. The resource base of the state offers ample scope for growth of aquaculture especially in the Inland waters. However, resource conservation and elimination of harmful fishing practices need greater emphasis in the future endeavors. With adequate technological support and extension activities, the sector can be expected to do well in the coming years.