Agriculture and Allied Sectors
Food security exists when all people, at all times, have physical, social and economic access to sufficient, safe and nutritious food to meet their dietary needs and food preferences for an active and healthy life. The four pillars of food security are availability, access, utilization and stability. The nutritional dimension is integral to the concept of food security. In order to achieve the concept 'zero hunger' the UNO declared to end hunger, achieve food security and improved nutrition and promote sustainable agriculture as a Sustainable Development Goal.
There are nearly 800 million people who suffer from hunger worldwide and out of this 511.7 million are in Asian countries. The incidence of the poverty in India was estimated at 264.9 million in 2011-12. Further, calorie and protein intake of large number of people in India especially in rural areas are lower than normal. As per the State of Food Insecurity in the World 2015 (FAO) India has the second highest number of undernourished people at 194.6 million which is around 15.2 percent of the world's total undernourished population. In order to reduce the incidence of poverty and to attain food security GoI enacted National Food Security Act 2013 to provide subsidized food grains to approximately two thirds of India's 1.2 billion people.
Kerala has been deficient in the production of food grains. Of the total requirements of food grain only 15 per cent is produced in the state. In the case of vegetables too, the state relies heavily on neighbouring states. There is a strong correlation between stability in agricultural production and food security. Therefore, along with provision of food subsidy, stability in agricultural production and strengthening of supply chain management needs to be addressed to ensure food security.
Although Kerala is a highly progressive state in terms of education, healthcare facilities and awareness among beneficiaries, nutritional security especially of the most vulnerable is extremely critical to fulfill the vision of a Hunger Free Kerala. Various schemes run by the state for poverty alleviation along with the Central Government schemes such as Public Distribution System, Integrated Child Development Services and Mid Day Meal which approach food security through a life cycle approach need more strengthening, integration, modernisation and monitoring. One of the main objectives of the 13th Five Year Plan is to make Kerala a hunger free state by supplying meals at nominal prices to the needy. As a pilot project the programme will be implemented in selected areas of the state - Box 2.6.
Box 2.6
Hunger Free Kerala
The State Government has launched a new project intended to provide one time free meal a day for the needy. The scheme will be implemented with the help of Kudumbasree Units and other Voluntary Organizations/Non-governmental Organizations in two selected districts as a pilot project from 2017 -18 onwards. Price support of `10 per meal will be given for 1000 people per day in each district. This project will be extended to the whole of Kerala in ensuing years.
Source: Directorate of Civil Supplies Department
In pursuance of the Essential Commodities Act 1955 enacted by GoI, the Public Distribution System came into existence on July 1,1965. Timely lifting of commodities allocated from the Central pool and ensuring timely and effective distribution of the same through 14,335 ration shops in the State is a major responsibility of the PDS. Kerala has made pioneering achievements in the implementation of a Universal Rationing System. The number of ration card holders in the State reached 83.14 lakh in 2015-16 from 83.13 lakh in 2014-15. Similarly, number of APL cardholders also increased slightly to 62.64 lakh in 2015-16, from 62.52 lakh in 2014-15.There are 5.82 lakh Anthyodaya Anna Yojana (AAY) card holders in 2015-16 which was 5.83 lakh in 2014-15. As on October 31, 2016, there were 83.19 lakh ration card holders in the State. Of the total, 62.54 lakh card holders are under APL, 14.80 lakh are under BPL and 5.85 lakh card holders are under AAY. Details of Public distribution system in Kerala are shown in Appendix 2.95.
During 2015-16 rice allotment to APL card holders was 4.64 lakh MT and BPL card holders 3.78 lakh MT. At the same period rice allotment to AAY card holders was 2.71 lakh MT. Details of distribution of commodities through PDS are given in Appendix 2.96.
National Food Security Act 2013
In pursuance of the National Food Security Act 2013, Government of Kerala has decided to implement NFSA in the State with effect from 01.11.2016 and Kerala State Civil Supplies Corporation (Supplyco) is entrusted to implement door step delivery of PDS articles (Box 2.7). To implement the NFSA, government of Kerala published the draft priority list of 1.54 crore members from 33.34 lakh households in the state, who will be covered under NFSA subsidies. The remaining 2.09 crore members from 50.05 lakh households are covered under non priority list which includes 1.21 crore under APL –SS (State Subsidy). The details are given in the Figure 2.13 and Table 2.12.
Box 2.7
National Food Security Act
The National Food Security Act, 2013 is a legislation enacted by the Central Government which aims to provide subsidised food grains to approximately two thirds of India's 1.2 billion people. Government of Kerala decided to implement NFSA in the State with effect from November 1, 2016. Under the NFSA end to end computerization of the entire chain of the Public Distribution System has been planned with the objective of reducing leakages, better targeting and reducing the economic cost of distribution. Many states have already completed the implementation of various computerization components such as online allocation, supply chain management and FPS automation. The Civil Supplies department in collaboration with NIC, Supplyco and other partner's plans to complete the implementation of End to End computerization of PDS components by 2017-2018.
Steps Initiated for the Implementation of NFSA in the State
| | |
| --- | --- |
| Item | Action Taken |
| Beneficiary identification | Draft List Published |
| Door step delivery of food grains | Supplyco was entrusted |
| Online allocation details in public | Web portal prepared |
| Appointing SFC and DGROs and grievance redressal system | Steps initiated |
Source: Civil Supplies Department
Kerala has a universal public distribution coverage which has been instrumental in providing food security to most of its population. In addition, state run Supplyco is mandated to control the prices of 13 essential commodities by distributing it at subsidised prices through its 1406 stores spread across the state.
Figure 2.13
Category wise Card Holders in Kerala as on October 31, 2016 (Provisional)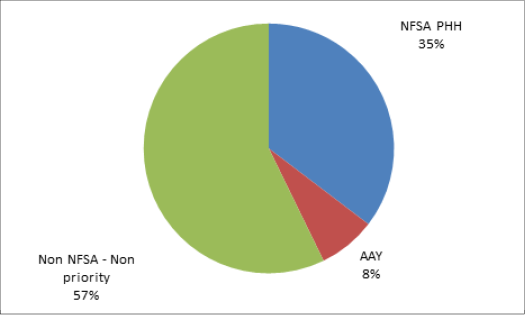 Source: Civil Supplies Department
Table 2.12
Details of Card Holders and Entitlement of Food grains
| | | | |
| --- | --- | --- | --- |
| Category | Ration Cards | Beneficiaries | Entitlement (per month) |
| NFSA PHH | 2837236 | 12921411 | 5 Kg per member |
| AAY | 595800 | 2558632 | 35 Kg per households |
| Non NFSA Non Priority | 4589324 | 18744057 | 2 Kg per member |
| TOTAL | 8022360 | 34224100 |   |
Source: Civil Supplies Department
Anthyodaya Anna Yojana (AAY) and Annapoorna Scheme (ANP)
The scheme is to provide 35 kg of food grains per month to the poorest of the poor families under BPL and is being implemented in the State since December 25, 2001. There were 5.82 lakhs Anthyodaya Anna Yojana (AAY) card holders in 2015-16 which was 5.83 lakh in 2014-15. In 2015-16, the allotment of rice under AAY continued at the level of 2,50,260 MT. Govt. of India supplies food grains under AAY to the state at the rate of `3/kg and the State Govt. in turn provides it to the beneficiaries at the subsidized rate of `1/kg. 
Annapoorna scheme provides 10 kg of rice free of cost per month to destitute of the age of 65 years and above who are not in receipt of any of the pensions from the Government. The targeted number of beneficiaries approved by the govt. of India is 44,980. But the number of beneficiaries identified in the state as on March 31, 2016 is 23322. Details of distribution of food grains under AAY and Annapoorna schemes during 2015-16 are given in Appendix 2.97.
Central Allotment of Sugar and Kerosene
Allotment of sugar to Kerala in 2015-16 was 53664 MT and that of Kerosene, 1,14,422 KL. Allotment of sugar is restricted to BPL/AAY card holders. Details of Central allotment are given in Appendix 2.98.
Kerala State Civil Supplies Corporation (Supplyco)
Kerala has one of the best Public Distribution System networks in India. Kerala State Civil Supplies Corporation being the second line of Public Distribution System is instrumental in stabilising the prices of essential commodities in the State. It was set up in 1974 to provide food security to the state. Kerala, being a consumer oriented state, controlling the undue rise in prices is not possible without a powerful public distribution system that intervenes in the open market effectively throughout the year. The system ensures the distribution of essential items to every person in the state through Fair Price Shops and Supplyco outlets.
Supplyco has its headquarters in Kochi and operates through 5 regional offices, 56 depots and 1100 plus retail outlets. Details of outlets are given in Appendix 2.99. The main functions of Supplyco include retailing of Fast Moving Consumer Goods (FMCG) at lower prices, conducting special fairs for arresting the undue rice in prices during festival seasons, retailing of medicines by opening medical stores, procurement of paddy, processing and distribution of wheat and its products, acting as dealer of petroleum products like kerosene, petrol, diesel and LPG and acting as nodal agency to implement the programmes of Government of India in the state. The sales turnover of the corporation increased from `2,223 crore in 2010-11 to `3,857 core in 2015-16.
Mid-day Meal Programme
Mid-day Meal Programme in schools is implemented in the state with the financial support of State govt. and Central assistance. The programme was introduced in 1995 by the Ministry of Human Resources Development, Government of India, to provide nutritional support to primary school going children and to boost universalisation of primary education by increasing enrollment, retention and attendance.
Supplyco is entrusted with the responsibility of providing commodities to mid-day meal programme in the state. The required quantity of rice is taken from Food Corporation of India. During 2015-16, the Corporation supplied 9,64,583.05 Qtls of rice and 1,23,725.2 Qtls of special rice benefiting 25.02 lakh children. The cost of the food grains is met through Education Department. Number of children benefitting from the mid-day meal programme is given in Figure 2.14 and details of supply of food grains from 2010-11 to 2016-17 are shown in Appendix 2.100. One of the main reasons for decline in the number of children benefitting from this programme in the previous years was due to the non-participation of students in certain districts. However, this scenario has changed and the number of children benefitting from the programme has increased in 2016-17.
Figure 2.14
Mid-day Meal Programme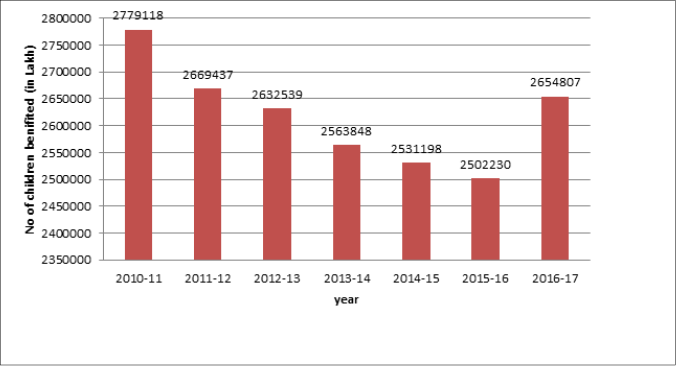 Source: Civil Supplies Department and Supplyco
Agricultural growth in the State has been dampened by the weak monsoons. Realizing the growth potential and the urgent need to revamp the sector, the State has taken measures for rejuvenating agriculture. Increasing public investment in agriculture, promoting self-sufficiency in production of vegetables, protection of paddy fields, improving research and extension services are some of the measures on anvil. The State needs to improve its irrigation network to equip itself for adverse weather conditions. Environmental conservation has been recognized as vital for sustainable development. Providing food security to its citizens also depends on enhancing agricultural productivity. The State aims at achieving a hunger free Kerala for which the development programmes needs to be channelized and targeted appropriately.