Social Service
Social security provides protection to people living in economic and social distress. It can "protect'' people against a fall in living standards and living conditions through ill-health, unemployment, and accidents, and also "promote" enhanced living conditions, helping the poor to overcome persistent deprivations. There has been a growing demand that the approach to social security programmes and schemes should progressively shift to a rights based framework and should not be viewed merely from a welfare prism. Kerala has
several achievements in introducing social security measures to the vulnerable groups like persons with disabilities, aged people, women and children in difficult circumstances. In Kerala, the Department of Social Justice and its allied agencies are involved in addressing the problems of social security and welfare. The major activities of the departments and agencies are given in Appendix 4.64.
Importance of Social Security Programmes in Five Year Plans
Social Security programmes have found an important place in the five year plans. The proportion of the outlay of the sector, including nutrition, to State plan outlay during the EleventhFive Year Plan (2007-12) was nearly 2 percent which increased to 2.37 percent in the Twelfth Five Year Plan(2012-17). Among the entire Social Services sector, the outlay of social security and welfare increased from 6 percent in the Eleventh Five Year Plan to 7.5 percent in the Twelfth Five Year Plan. This reflects the priority given by the State to the social security programmes in its Five Year Plans and Annual Plans.
Categorisation of Social Security Programmes in Kerala
Institutional Care and
Social Assistance Programmes.
A. Institutional Care
In the State, Government as well as NGOs and Voluntary Organizations (VOs) provide institutional care to the weaker sections. There are 78 welfare institutions under the aegis of Social Justice Department (SJD) for the care, protection and rehabilitation of children, disabled, women and aged. Out of this, 33 institutions are for children, 20 for women, 12 for aged people and 13 for disabled. About 2,955 persons were benefited in 2015 through the network of these institutions which is an increase of 6 percent compared to the beneficiaries in 2014. Apart from this, 82,070 persons were benefitted through 2,218 different registered welfare institutions run by NGOs and VOs, of whom, 16,876 were old people, 1,221 women, 10,017 disabled, 472 abandoned children, 51,546 orphaned children, 770 beggars and 1,168 others.
During this period, the number of occupants was less compared to the sanctioned strength of inmates for certain categories of institutions run by SJD. It could be that the sanctioned strength no longer exists in practice due to financial difficulties in maintaining large numbers. As against the total sanctioned strength of 3,860 inmates in the 78 welfare institutions, the occupants were 2,955 in 2015. This is about 77 percent of the total sanctioned strength of inmates. Substantial gap is noted in Old age homes, Mahila Mandirams, Vocational Training Centres, Care homes for disabled children and Rescue homes. However,the number of occupants in the case of Ashabhavans for mentally ill persons, Pratheeksha Bhavans for mentally challenged persons and Children's homes are almost near the sanctioned strength or much more than it. In the welfare institutions registered under SJD, the number of inmates is higher than sanctioned strength in Nirbhaya shelter homes, but much less in homes for persons with disabilities, Old Age, institution of MR and orphanages.
The number of welfare institutions in Government sector increased from 74 in 2012 to 78 in 2015. However, that the State does not have any care institutions/assisted living homes for children with intellectual disabilities (Autism, Cerebral Palsy, Multiple Disabilities and Mentally Retardation) is a matter of concern. All these necessitate an integrated policy framework and careful planning for establishing new institutions different from those in the past. The district wise coverage of beneficiaries in major welfare institutions run by SJD is given in Appendix 4.65 and that of registered welfare institutions in Appendix 4.66.
B. Social Assistance Programmes
Social assistance programmes aims to reduce poverty and vulnerability among the people having little or no regular means of subsistence. Various social assistance programmes are listed below.
Social Security Pension Schemes through LSGIs
Old age pension, disability pension, widow pension, pension for unmarried women above 50 years and agriculture labour pension are the major pension schemes. Of these, the first three are part of the National Social Assistance Programme (NSAP) for which central assistance is received. From April 2015, the disbursement of pensions is being done at the State level through the newly introduced Direct Benefit Transfer(DBT) system. As on March 31, 2016, there were 34 lakh pensioners in the State. The total expenditure on account of the social security pensions was Rs.3434.50 crore. The highest category of pensioners is of old age pensioners (40 per cent) followed by widow pensioners (33 per cent)(Figure 4.5).
Figure 4.5
Beneficiaries of Pension Schemes in Kerala through LSGIs during 2015-16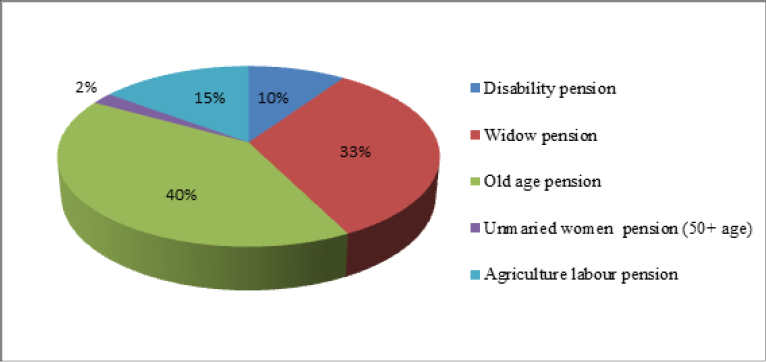 Source: Directorate of Panchayats
Among the districts, Thiruvananthapuram is on top with highest number of beneficiaries and Wayanad the least. If the entire system of social security pension scheme in the State was operated under one head, a comprehensive list of pensioners will be available which would help us to ascertain the actual beneficiaries and extending its coverage to the needy people who may have been left out.The district wise coverage is given in Appendix 4.67.
Social Security and Welfare of Unorganized Sector Workers
Social security coverage to workers in the unorganized sectors is given through the Welfare Fund Boards. There are 33 Welfare Fund Boards in the State, of which 16 are under the direct control of the Labour Department. These boards provided social security to around 55.41 lakh workers in 2015,of whom, 24.17 lakh were female workers. About 56 percent of the workers were from agriculture and allied sectors. Bringing all these boards under one umbrella would facilitate monitoring and bringing uniformity. Details of workers enrolled in the WFBs are shown in Appendix 4.68.
Welfare Of Senior Citizens
Kerala is aging faster than the rest of India; almost 13 percent of the population is already past 60 years. By 2025 the population of senior citizens is expected to reach 20 percent. Currently 42 lakh people of Kerala are 60 and above; 13 percent of them are 80 years of age and over, the fastest growing group among the old. Women outnumber men among the 60 plus and among them, majority are widows. Life expectancy among women is generally higher than men (for all-India also); however, it is much higher in Kerala and men marry women a few years younger which explains the high proportion of widows among the old. NSS Survey 2015 on morbidity indicates that 65 percent old are morbid. The age composition of Kerala's Senior Citizens is given Table 4.18 and Figure 4.6.
Table 4.18
Age Composition of Senior Citizens in Kerala, in number
| | | | |
| --- | --- | --- | --- |
| Age composition | Total | Men | Women |
| Total population | 33406061 | 16027412 | 17378649 |
| Total old age population | 4193393 | 1853595 | 2309798 |
| 60-69 | 2416805 (58 per cent) | 1114368 (60 per cent) | 1272437 (55 per cent) |
| 70-79 | 1234739 (29 per cent) | 534879 (29 per cent) | 699860 (30 per cent) |
| 80+ | 541849 (13 per cent) | 204348 (11 per cent) | 337501 (15 per cent) |
Source: Census of India, 2011
Figure 4.6
Age Composition of Senior Citizens in Kerala, in per cent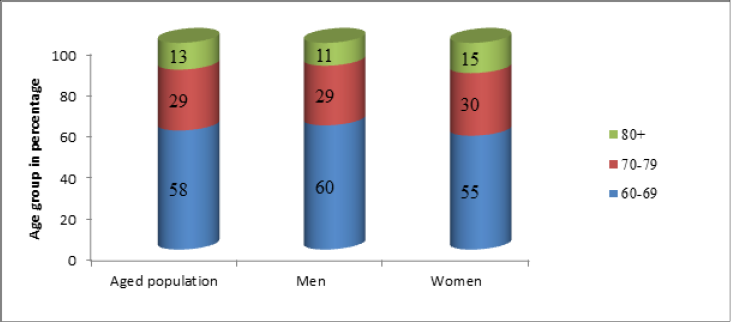 Source: Census of India, 2011
The marital status at older ages in Kerala shows that for an overwhelming majority of men (89 per cent) their wives are alive at older ages, while for only 38 percent of women their husbands were living at old ages. Also, 8.8 perc ent of men and 57 percent of women are widowed. 62.2 percent of women are without partner (never married/divorced/separated/widowed) which reflects a real sign of loneliness in later years. The marital status of Kerala's Senior Citizens is given in Table 4.19.
Table 4.19
Marital Status of Kerala's Senior Citizens, in per cent
| | | | |
| --- | --- | --- | --- |
| Category | Total | Men | Women |
| Never married | 2.6 | 1.8 | 3.3 |
| Currently married | 60.8 | 88.9 | 37.8 |
| Widowed | 35.7 | 8.8 | 57.0 |
| Others | 0.9 | 0.5 | 1 .9 |
| Without partner | 39.2 | 11.1 | 62.2 |
Source: Census of India, 2011
Programmes for Senior Citizens
The programmes and schemes for senior citizens implemented through the Social Justice Department aims at their welfare and care by supporting old age homes, day care centres, and mobile medicare units. Major programmes for older people are listed below.
Vayomithram Programme
Kerala Social Security Mission is implementing this programme in 6 Corporations and 38 Municipalities of the State giving welfare services to persons above 65 years. Free medicine, palliative home care, medical camps and help desk facilities are the services provided. During 2015-16, the programme assisted nearly 833754 older persons, of whom, 49190 were women.
Age Friendly Panchayat
The age friendly panchayat implemented by SJD is a new initiative associated with State Old Age Policy, 2013. Converting all the panchayats in the State into age-friendly panchayats for ensuring good health, participation and assuring quality of life to the elders is the objective of the programme. Accordingly, the Manickal Panchayat in Thiruvananthapuram district has been selected as the first integrated age-friendly panchayat.
Vayo Amrutham Programme
The Social Justice Department with the support of Indian System of Medicine department has implemented this new programme in 14 Old age homes for the treatment of inmates who are suffering from health problems like Diabetes mellitus, Asthma, and Arthritis. 674 inmates of the homes got benefited from the Ayurvedic treatment, of whom, 372 were females.
Welfare of Persons With Disabilities (PwDs)
The UN Convention on the Rights of Persons with Disabilities (UNCRPD) urges the signatory countries (India has ratified it) to promote, protect and ensure the full enjoyment of human rights by persons with disabilities and ensure that they enjoy full equality under the law. PwDs often lack access to good quality basic and higher education. In Kerala, a state wide survey of PwDs was undertaken by the Kerala Social Security Mission in 2015, the first of its kind in India, covering 22 types of disabilities. As per the survey, 7.94 lakh people equivalent to 2.32 percent of the total population of the State are disabled, of whom, females constitute 44.57 percent, SC 10.93 percent and ST 2.15 percent. The highest number of disabled persons is in Malappuram district (12.5 per cent) followed by Thiruvananthapuram (9.72 per cent) and the lowest in Wayanad district (2.91 per cent). Regarding type of disabilities, locomotor disability stands top with 32.89 percent and multiple disabilities stand second 17.31 percent.
State Policy for Persons with Disabilities
Government of Kerala enacted a policy for PwDs in the year 2015 recognising the necessity and inevitability of including disability dimensions in the development agenda, programmes and action plans of the State. Participation of PwDs in the developmental process, viewing disability as a human rights issue, protection from abuse and creating a positive environment and attitude for inclusive development and empowerment of PwDs are the key strategic focal dimensions of the policy. From being passive beneficiaries, the disabled have to be considered as equal partners and contributors to development.
Institutions for Empowering Persons with Disabilities
National Institute of Speech and Hearing (NISH)
NISH is a premier institute in the area of disability and declared as a National University for Disability Studies and Rehabilitation Sciences. The institute was set upto providean excellent environment for pursuit of higher studies for people with disabilities. The facilities of the NISH include audiological evaluation, speech languages rehabilitation, pre-school and parent guidance programme, ENT services, psychological services, speech therapy, degree courses for persons with hearing impairment, graduate and post graduate programmes in human resource development, and research activities.
From April 2015 to March 2016, NISH has attended 214 cases(no. of students) under early intervention programmes, 10787 cases seen under hearing and speech language disorders programme and 990 cases under medical, psychology and allied services. The academic programmes conducted by NISH benefited 218 students. Among them 160 were girls students. The training and industry placement benefited 11 persons and the volunteering and internship opportunity benefitted 14 persons. Of whom, the women beneficiaries were 5 and 13 respectively.
Kerala State Handicapped Persons Welfare Corporation
The Corporation provides economic empower-ment and rehabilitation to the persons with disabilities. During 2015-16, the Corporation supplied aids and appliances to 1658 differently abled persons under ADIP scheme of Government of India and distributed 500 motorised scooters (General category: 384, SC category: 116) under the plan scheme of Government of Kerala. Equipment like tricycle, wheel chair,and hearing aid, were distributed to 3928 differently abled persons and issued motorized tricycle subsidy at the rate of 10000/- to 47 such persons. Also, the Corporation distributed loans to 123 disabled persons for self-employment from the funding provided by National Handicapped Finance and Development Corporation. In addition, the Corporation itself distributed bank loan subsidy to 310 differently abled persons across the state for self-employment. The Corporation also assisted 196 children through the fixed deposit scheme (15,000/- for male and 20,000/- for female) for severely disabled children. Among them, 101 were male and 95 were female children.
State Commissionerate for Persons with Disabilities
The State Commissionerate was set up as per the Persons with Disabilities Act (PwD Act) enacted by the Government of India in 1995. Co-ordinating the programmes implemented by different departments and monitoring the utilization of funds for the benefit of the disabled in the State are the functions of the Commissionerate. The other functions of the Commissionerate are conducting awareness camps, redressal of the complaints of disabled persons,and inspection of institutions for disabled.
National Institute of Physical Medicine and Rehabilitation (NIPMR)
NIPMR is an institute under Department of Social Justice dedicated to the assessment and therapy of children and adults with multiple disabilities especially Cerebral Palsy and other associated disorders. An average of 20 clients mostly children are attending the speech therapy sessions under the Audiology and Speech Language Pathology department. The persons affected with stroke and accidents are also to be treated with available facilities in NIPMR. Institute for Cognitive and Communicative Disorders and Neuro Sciences (ICCONS) and Child Development Centre are the other major institutions working in this area. The particulars of these institutions are given in the chapter of Medical and Public Health.
Programmes for Persons with Disabilities
The schemes for the welfare of persons with disabilities are being implemented through Social Justice, Health and Education Departments. The schemes implemented through SJD and KSSM are listed below.
Issuing Disability Certificate to Differently Abled
According to the Persons with Disability Act, 1995 it is mandatory to provide disability certificate to all the disabled. From 2009 to March 2015, Kerala Social Security Mission distributed 2,83,277 identity cards through disability certification camps. The impact of such camps is that it reduces the difficulties faced by PwDs to travel to distant places for getting the medical certificates.
Aswasakiranam
Kerala Social Security Mission provides monthly assistance to the caregivers, primarily women of severe mentally challenged persons and bed ridden persons with severe physical disability. Such assistance was given to 72,350 caregivers during 2015-16,of whom, 50,640 were women caregivers.
State Initiatives on Disabilities (SID)
This is a special initiative of the Government for prevention, detection, early intervention, education, employment and rehabilitation of the persons with disabilities through Social Justice Department with the joint support of Education and Health Departments. The major achievements are:
MMR Vaccination:-MMR vaccination was started and given free of cost to new-borns from January 2014 onwards in Govt. Maternity Hospitals and about 3 lakh doses of vaccines were supplied as against the target of 6 lakhs.
Rubella Vaccination:-Rubella vaccination was administered to 5,44,692 adolescent girls in schools. The MMR and Rubella vaccination programme would reduce the number of children born with various disabilities.
Universal Hearing Screening:-To conduct hearing screening of new born babies, Oto Acoustic Emission Screeners were given to 5 Govt. Medical Colleges and 35 Govt. Hospitals. Since its commencement in the year 2014-15, the number of neonates screened was 178,523, of which 20,514 babies were referred to further check-up and correction.
District Early Intervention Centres:-Land for DEICs has been identified in all the 14 districts. The expected outcome of DEIC is an "Accessible Service Hub" for PwDs and a centre for education and training for their parents and other stakeholders.
Establishing of Special Anganawadies for Pre-school Children with Disabilities:-The project initiated by Department of Social Justice for the children with disabilities is being piloted in Kozhikode district. This programme has a greater impact on the children in performing their Activities of Daily Living (ADL) by themselves,enabling them to become more accommodative in their further schooling and reducing the constraints in mainstreaming.
Mobile Intervention Units (MIUs):- Mobile Intervention Units on pilot basis started in Kozhikode and Malappuram districts accessed 1000 children with development delay and disabilities.
State Initiative on Dementia
The Department of Social Justice has started a Day Care Centre at Thrissur Municipality and a full time centre at Edavanakkad Old age home for the rehabilitation of dementia patients in the State.
Insight project
The project initiated under Kerala State IT Mission and handed over to Social Justice Department in 2013 offers preparation of ICT based lesson plans for visually challenged teachers,technical assistance to visually challenged students for their various academic needs, and consultancy services for visually challenged employees for increasing productivity.
Welfare of Women
The present status of women in Kerala is given in the section on gender development. However, the activities of the institutions set up for women empowerment and major schemes promoting social and economic rehabilitation of women are as follows.
Indira Gandhi Matritva Sahyog Yojana
This centrally sponsored scheme provides financial assistance to pregnant women of 19 years and above for the first two live births in Palakkad district. The scheme assisted 88,527 beneficiaries till March, 2016.
Snehasparsham
This scheme implemented by KSSM aims to address the problem of unwed mothers. Monthly assistance of 1000/- is given to all unwed mothers and the scheme has benefited 6155 women till March, 2016.
Women Development Programmes
This is a major programme of Social Justice Department focusing on implementation of dowry prohibition, protection of women from domestic violence and sexual abuse, rehabilitation of victims including health care and compensation, economic support to women headed families and women belonging to BPL families and assistance to low salaried women for self-improvement through capacity building. During 2015-16, educational assistance was given to 13540 women headed families.
Nirbhaya Programme
Nirbhaya programme of Social Justice Department envisages setting up of 'Nirbhaya Homes' for sexually abused women. 10 such homes were started in 9 districts sheltering 200 women. Under this programme, One Stop Crisis Cell was established in 14 District Hospitals and 7 Taluk hospitals providing all required services to women victims of sexual violence - emergency health care, psychological counselling, police assistance, legal aid and safe shelter service. 11 Nirbhaya shelter homes were also started for catering to the special needs of the women above 18 years of age and accompanying children. During 2015-16, these shelter homes benefited 275 women
Gender Park
Gender Park, proposed at Kozhikode, was conceptualised by the Department of Social Justice in 2013 as a platform where State, Non-Government Organizations (NGOs), academia and civil society could come together for learning and research on gender equality and empowerment of women. It provides a space for all gender identities to overcome the socio-economic and political boundaries imposed on them by society and contributes to the economic, cultural, and social aspects of the state and the country. She Taxi flagship project of Gender Park is India's first 24x7 women-specific taxi network managed and employed by women to promote entrepreneurship, self-employment and security of women. Currently, there are 32 She Taxis across three cities, of which 16 are in Trivandrum, 12 in Cochin and 4 in Kozhikode. She Taxi project provided entrepreneurial opportunity to 32 women drivers cum entrepreneurs.
Beti Bachao Beti Padhao
This centrally sponsored scheme implemented by the Department of Social Justice was launched in Thrissur district on a pilot basis addressing the issues of women in the longer term and to reverse the trend of declining child sex ratio. As per the scheme, the State received financial assistance from GoI to empower the girl child and enabling her education.
Institutions for Women Empowerment
Kerala Women's Commission
The Commission was established in 1996 to improve the status of women in Kerala and enquire into unfair practices against women and recommend remedial measures. The Commission implements gender awareness programmes and undertakes legal workshops /seminars, adalaths, and DNA test. During 2015-16, the Commission had conducted 154 legal workshops/seminars on various problems faced by women;conducted 49 counselling/skill training programmes to Panchayat Jagrathasamathis on various laws related to women and other legal procedures and disposed of 5085 petitions through 143 Adalaths. Under gender awareness programme, the Commission undertook 27 pre-marital counselling sessions across the state with the participation of women NGOs and conducted gender sensitisation programmes in 433 educational institutions. During 2015 to 2016, the Commission received 6377 complaints. The nature of complaints shows that domestic violence, harassment of women and family problems dominate and are on the increase. The category wise and district wise details of complaints received as on March, 2015 are given in Appendix 4.69.
Kerala State Women's Development Corporation
Self-employment schemes for women, flagship programme on gender awareness and Finishing Schools are the major programmes of the Corporation. The Corporation distributed over 2.50 crore from National Corporations to 2280 women under self-employment loan scheme and 0.75 lakh to 293 women in general category through plan fund. The Corporation has so far installed 49 She-toilet units across the state and 8 in major railway stations. As part of ensuring menstrual health and hygiene for adolescent girls and women, the Corporation launched the supply of high quality sanitary pads at affordable cost and installed vending machines and incinerators in 623 schools across the state. Under the flagship programme on finishing schools, the Resource Enhancement Academy for Career Heights (REACH) at Thiruvananthapuram and Kannur imparted skill training to 4157 students. The EDP/Vocational training programme benefited 3200 women in 64 panchayats and the Gender awareness campaign conducted in 40 women colleges benefited 12,000 girls.
Welfare of Ex-Servicemen and War Widows
As on March 30, 2016, there were 1,70,200 ex-service men, 57,186 widows and 290 war widows. Rehabilitation training on vocational/professional/technical courses for equipping the ex-service men/war widows and their dependents is a major programme. During 2015-16, the computer training centres at Thiruvananthapuram, Kozhikode and Thrissur provided rehabilitation training to 194 beneficiaries, of whom, 12 were women.
Welfare of Prisoners
In Kerala, the jail infrastructure consists of 44 jails and 11 prisons. As on March 2016, there were 7,770 prisoners, of whom 213 are women. The women prisoners in Kerala are marginal (3 per cent) compared to other southern states where this proportion ranged from 4 to 6 per cent (Figure 4.7).
Figure 4.7
Trend of Women Inmates in Jails of Kerala, in number
Source: Economic Reviews
Overcrowding in jails is the major problem as it is very difficult to accommodate further prisoners. The authorised capacity as per living space is only 6217 (Male-5840, Female- 377). Modernization of Prison and Welfare of Prisoners are the two major schemes implemented by the Prison department. Computerization of jails, paperless office programme, and installation of CCTV in 31 jails are the major programmes. Details of prisoners in jails are given in Appendix 4.70.
Welfare of Children
The children in the age group 0 to 18 constitute less than 30 percent of the State's total population and that of girl child 0 to 6 years is 9.36 percent. Kerala has achieved marked improvement in promoting survival, protection, development and participation rights of children in a holistic manner.
Children's Right to Protection
Child protection means to create a safe and caring environment for all children, free from neglect, violence, abuse and exploitation. Kerala performs much better in protecting children from all kinds of ill-treatment and violence. However, following constraints remain which prevent the state from providing social safety net for children, in particular those specifically vulnerable.
Crimes against Children
Crimes against children continue to show an upward trend, with rising figures for kidnapping and rape. As per the report published by the State Crime Records Bureau, the crimes against children in the State have increased by 143 percent from 2008 to 2016.
Girl Child
The sudden decline in the Child Sex Ratio (0-6 years) at the all India level from 927 females per 1000 males in 2001 to 919 in 2011 is a major indicator of women disempowerment. As per 2011 Census, the child sex ratio for the State is 964 which is only four points higher than in 2001 Census (960). The child sex ratio in all the districts of Kerala is less than 1000. However, the districts of Alappuzha (951), Ernakulam (961), Kasaragod(961) and Thrissur (950) show ratios below the state average which is quite alarming. Discouraging the use of sex selection techniques, rewarding the girl child and awareness creation are the interventions needed to promote the girl child.
Child Marriage
Child marriage is a violation of child rights. According to UNICEF, child marriage has been found to be on the rise in Kerala in recent years due to migration from the northern part of the country. There are pockets in the state, including tribal areas, where this practice continues to exist with social sanction.
Child Abuse
The child abuse cases especially sexual abuse incidence of girl children are on the increase. As per State Crime Record Bureau, 1718 sexual abuse cases were reported in Kerala under Protection of Children from Sexual Offences (POCSO) Act up to October, 2016. The growing tendency, especially in adolescent years, towards substance abuse, use of alcohol and cyber abuse is another key area of concern.
Children Infected and Affected by HIV/AIDS
As per the statistics of Strategic Information Management System of the National AIDS Control Organization, there are 884 children at present in Kerala who are infected with HIV, as against 1.5 lakh children infected across the country.
Children's Right to Development
Early childhood is the most significant developmental period of life. Holistic development of children up to 18 years includes all areas of growth-physical, mental, emotional and social development. Kerala has always been in the forefront for promoting the above four domains of child development. However, some lacunaein early childhood care remain. Even though the State shows a high level of immunization coverage (District Level Health Survey (DLHS)- 4 report-full immunization coverage for 12-23 months is 82.5 per cent), anti-vaccine campaigns are noted in some of the northern districts of Kerala. Exclusive breastfeeding (first six months of infancy) rates in Kerala shows slow progress (prevalence of exclusive breastfeeding among 0-5 months is 69.1 per cent and 69.8 per cent in DLHS-3 and DLHS-4 respectively). Unhealthy feeding practices such as pre lacteal feeding practice, late initiation of breast milk and bottle feeding practices are noted in several research studies conducted in Kerala.
Absence of Universal pre-school education in the state is another major issue which requires much attention. As per Rapid Survey of Children (RSOC)-14, 26.2 percent of children in the age group 3-6 years are not attending pre-schools. Also, absence of scientifically prepared uniform curriculum is another area of concern needing redressal.
Children's Right to Survival
Infant mortality and prevalence of low birth weight babies are the two major distress of child survival. The State's SDG target for IMR is to reduce it from 12 per 1000 live births to 8 per 1000 live births, MMR from 66 to 30 per 1 lakh live births and Under 5 mortality rate from 14 to 9 per 1000 live births by 2020. Although the State has done well in above parameters, the prevalence of malnutrition (DLHS-4, around 21 per cent children below 5 years are underweight and 19.4 per cent are stunted), anaemia (DLHS-4, 34.6 per cent have anemia and 2.4 per cent have severe anaemia), shortfall in full immunization(around 17 per cent of children in the State do not get all 5 vaccines before their first birthday) are high in certain districts of the state, particularly in the tribal population. All of these present a huge challenge for the Government to achieve the target of SDG.
Children's Right to Participation
Rights to participation provide children with an environment to participate in decision making processes and to give them an opportunity to express their views freely. Kerala's model of Balasabha and Balapanchayat as neighborhood network of children in LSGs for holistic development of child health has been widely acknowledged. As on March, 2015, the formation of 53792 numbers of Balasabhas across the State has been completed with a membership of 8,21,102 children.
Major Programmes on Child Protection, Care and Development
The programmes and schemes related to the protection, care and development of children are being implemented by the Department of Social Justice and KSSM. The major Acts, policies and programmes in addressing the rights of children are detailed below.
Protection of Children from Sexual Offences (POCSO) Act, 2012
The Act deals with child abuse and provides protection to children from the offences of sexual assault, sexual harassment and pornography. Many steps have been taken in the state for the effective implementation of the Act. 11 Special care homes have been set up to provide care and protection to children covered by this Act in 9 districts. Special Juvenile Police Units are being set up in all districts. To expedite the trial of cases registered under the Act, Special Courts have already been notified in the State.
Kerala State Commission for Protection of Child Rights
The Commission functioning as a statutory body has the mandate to examine and review the existing laws for the protection of child rights, inquire into cases of violation of child rights, look into factors inhibiting the enjoyment of those rights and suggest remedial measures. During 2015-16, 1582 complaints were received by the commission and 1042 cases were disposed. Of these, 46 cases were related to POCSO, 197 cases related to RTE and the remaining to child rights violation. The Commission has also conducted annual survey in 140 schools per district to access the level of implementation of the RTE Act, 2009.
Adoption Services
There are 20 Specialized Adoption Agencies, 5 recognized adoption placement agencies for inter-country adoption and 20 licensed adoption placement agencies functioning in Kerala. During 2012-13 to 2015- 2016, 748 in–country and 67 inter-country adoptions took place. Details of adopted children are given in Appendix 4.71.
Childline Services
Childline system is a 24-hour toll free telephone service (1098) for children in distress. The service is now available in 278 cities in India and 15 in Kerala (3 in Rural and 12 in Urban). The Childline service would be strengthened further in consultation with NGOs and other voluntary organizations.
State's Child Policy, 2016
The Government has declared a new child policy to address the continuing and emerging challenges in the situation of children. The vision of the policy to create a State where every child has equal and equitable rights to live and develop her or his potential to the best of their abilities. Providing quality services to ensure a just and secure environment for all its children, opportunities for development, prevention and protection from all forms of violence, and forums for appropriate participation are the specific objectives of the policy. The guiding principles of the State Policy for Children are based on the National Children's Policy of India (2013). These principles include the following:
Child friendly approach in all matters.
Right to survival, protection, development and participation are the inalienable and indivisible right of every child.
Strengthened inter-departmental convergence.
All children are to be treated equally.
Free and compulsory education and protection from all forms of exploitation.
Promotion of a safe, secure and protective environment for children.
Strong focus on differently abled children, children of migrant labour and children of vulnerable segments of society.
Accountability and respect for the voice of the child, especially the girl child.
Juvenile Justice Services
Juvenile justice endeavours to undertake steps for all round development and rehabilitation of children such as orphans, destitute, neglected, street children, and victims of violence. Now, there are 9 children's homes, 7 special homes, 14 observation homes and 3 Balasadanams (certified as juvenile homes) with a capacity of 1450 which provide care and protection to 1054 children in the age group of 5 to 18. The need for children's homes for girls in all districts and providing Aftercare Homes for children over 18 who are not in a position to be rehabilitated as yet are issues that still need to be tackled.
Integrated Child Development Services (ICDS)
ICDS, one of the flagship programmes of GoI, aims at early childhood development by providing an integrated package of services such as supplementary nutrition, immunization, health check-up, referral service, health and nutrition education and pre-school education to children less than 6 years along with pregnant and lactating mothers. As on March, 2016, 258 ICDS projects and 3,3115 AWCs are operational across the state, covering 10.20 lakh beneficiaries under supplementary nutrition programme and 4.42 lakh children in the age group 3-6 years under pre-school education. Of the beneficiaries of supplementary nutrition programme 1.67 lakh were pregnant and lactating women and that of pre-school education 2.20 lakh were girls in the age group 3 to 6 years. District wise coverage is given in Appendix 4.72.
There is no significant improvement in the coverage of ICDS beneficiaries during the 2015-16. Less than 1 percent increase is noted as compared to 2014-15. Inadequate infrastructure facilities are a major constraint of ICDS in ensuring quality of service delivery through AWCs. Of the 33,115 Anganwadi centers in Kerala, only 12,718 are in A grade and 15,904 in B grade, 3,979 are still in C grade and 512 in D grade. Moreover, as per the annual report on ICDS, 22,536 centres have their own building and 1,803 centres are functioning in public buildings and remaining 8,776 are functioning in rented buildings. 42 percent of centres have no electricity facility, 9 percent are still using fire wood/ kerosene, 87 percent have no baby friendly toilets, and 28 percent does not have drinking water facilities and 47 percent any compound walls.
New Initiatives on ICDS of Social Justice Department
Community kitchen programme for Attappady ICDS project area
Supply of Energy Dense Special Food to Severe Acute Malnutrition children in Attappady
New pre-school education curriculum in Anganwadi Centres
Assessment card, pre-school certificate and theme and activity chart introduced in Anganwadi Centres
Grading of Anganwadis introduced
Introduced scheme for safe drinking water and baby friendly toilets to all Anganwadis
Social audit of Anganwadis started
Integrated Child Protection Scheme
This centrally sponsored scheme provides preventive, statutory care and rehabilitation services to children who are in need of care and protection and children in conflict with law. Child Protection Units, Child Welfare Committees, Special Juvenile Police Units, State Child Protection Society and District Child Protection Units and JJ Boards have already been established in the State to speed up implementation of the provisions contained in the JJ Act. The programmes related to various social legislations like Child Marriage Restraint Act, Kerala Beggary Prevention Act, programmes on Child Rights Convention, and adoption related laws are also being implemented under the scheme. During 2015-16, the various activities of ICPS benefited 8120 children.
Rajiv Gandhi Scheme for Empowerment of Adolescent Girls
As a centrally sponsored scheme, launched in Kollam, Idukki, Malappuram and Palakkad districts, it aims at empowering the nutritional and health status of the adolescent girls in the age group of 11-18 years through 84 ICDS projects of the districts. Extending the scheme to the districts covering coastal and tribal areas of the State was the most recent development. During the 12th plan up to 2015-16, the scheme assisted 5.13 lakh beneficiaries.
Kisori Sakthi Yojana
This is a centrally sponsored scheme with the objective to improve the nutritional status of adolescent girls in the age group of 11 to 18 years by using the platform of ICDS. The activities proposed are vocational training to adolescent girls, health and nutrition day celebration including health clinic activities, monitoring and evaluation at different levels, and orientation. During the 12th plan up to 2015-16, the scheme assisted 10.61 lakh adolescent girls.
Cancer Suraksha and ThalolamSchemes for Child Patients
These schemes of KSSM give free treatment through Government approved hospitals to children below 18 years who are suffering from cancer and life threatening diseases. During the 12th plan up to 2015-16, the Cancer Suraksha scheme benefited 15273 children and the Thalolam scheme 32934 children.
Snehapoorvam
Kerala Social Security Mission provides financial support to children who lost both parents or either of them and the other parent is not in a position to look after the child due to financial problems. This programme benefited 48,550 children till March, 2016. Among them 26,046 were females.
Our Responsibility to Children Kerala (ORC)
This is a project implemented by the Department of Social Justice. It offers psycho-social and emotional support to children to prevent inculcation of harmful habits like substance abuse with the support of other stakeholders like Police, Education/Health departments, and LSGD. The project was implemented in 36 selected schools in Trivandrum, Kozhikode, Ernakulam and Thrissur districts.
Psycho Social Services for Adolescent Girls
This scheme of Social Justice Department provides counselling and guidance support to adolescent girls. The department has so far developed separate adolescent health clinics in 807 selected schools with the support of concerned PTAs and LSGIs.
Cochlear Implantation in Children
The project of KSSM provides cochlear implant to children in the age group of 0-5 years selected by regional and state level technical committees and provides financial support for Auditory Verbal Habilitation (AVH) to operated children through empanelled hospitals. The project assisted 167 children during 2015-16. Among them, 77 were female children.
First 1000 Days Programme for Infants in Attappadi
This is a special programme by Social Justice Department for infants in Attappadi focusing on early initiation of breastfeeding, timely introduction of complementary foods at six months, hygienic complementary feeding practices and full immunization and vitamin A supplementation with de-worming. So far the programme has benefited 5528 children in Attappadi.
Gis Based Mother and Child Health Tracking System in Mananthawadi Block
This is a pilot programme run by Social Justice Department for tracking the health status of pregnant women and children in Mananthawadi block of Wayanad district with the support of the JATAK and JANANI software applications. The health condition of 15128 children in Mananthawadi block is being monitored through this programme.
Model Anganwadis
Model Anganwadi Centre is a concept of bringing the aged persons and the children below six years, adolescent girls and mothers into a common centre for sharing their experience. The centre shall have facilities for all the functions of the regular Anganwadi Centre along with a separate reading room for the elderly. Out of the 115 model Anganwadis Centres for which administrative sanction has been obtained, 44 were completed.
There has been a continuous endeavour on the part of the Government to specially focus on the vulnerable groups. However, a considerable number of them are still not economically empowered and continue to face discrimination and lack access to various services. This is due to social exclusion, disability, malnutrition, destitution, chronic or life threatening diseases. Lack of co-ordination among the departments often results in the duplication of schemes with the exclusion of deserving individuals. Presently the State follows a dole based approach for providing social security coverage to the marginalized communities. Consequently the social security framework misses the mark to provide need based support to the marginalized groups since each group has their own needs and ambitions.There are also emerging groups who are outside the social safety net like children with intellectual disabilities, paraplegic and dementia patients. Based on the premise that social security is a human right and a social and economic necessity the State should aim at achieving universal protection of the population,including all marginalized groups, by ensuring at least minimum levels of social protection, that is building a special protection floor.For this, focused intervention is necessary at the Government level to forge a vibrant partnership with LSGs, citizens groups, community based organizations and NGOs to provide institutional support and protection to those who need it. These interventions should restore them to a life of dignity and self-respect.