Scientific Services and Research
Science and technology is an important element of national development. Public investment in science and technology sector in Kerala is aimed at assisting economic development and in balanced and sustainable growth in the State, with a particular focus on the State's resources and needs, generating new and enhanced income and employment opportunities.
The two major institutions in the Science and Technology sector in the State are the Kerala State Council for Science, Technology and Environment (KSCSTE) and the Regional Cancer Centre, Thiruvananthapuram.
1. Kerala State Council for Science, Technology and Environment (KSCSTE)
Kerala State Council for Science, Technology and Environment (KSCSTE) is an autonomous body under the Department of Science and Technology, Government of Kerala. It is governed by the State Council (SC) with the Chief Minister of Kerala as the President and an Executive Council (EC), chaired by the Executive Vice President of KSCSTE. Presently, there are seven full-fledged R&D centres, two emerging research centres and two Grant –in- aid institutions under the umbrella of KSCSTE.
The main objective of KSCSTE is to plan and formulate science, technology and innovation policy pertaining to the development of the State. The schemes and programmes of the Council are aimed at the development of high quality science education system in the State.
The Kerala State Council for Science Technology and Environment also drives the research and development efforts of the R&D Centres and offers assistance for the creation of physical infrastructure and procurement of scientific infrastructure through the development and selective augmentation of R&D activities. The other initiatives include
Science popularisation programmes
Research development programmes
Ecology and environment related programmes
Awards and recognition for science promotion
Technology development and transfer
School level promotional activities
12th Five-Year Plan
An amount of 435.45 crore was the budgeted outlay for the sector during 12th Five-Year Plan and expenditure was 311.66 crore. (Table 3.3.1)
Table 3.3.1
Outlay and Expenditure in 12th Five-Year Plan and Annual Plan 2017-18, in crore
Sl. No.
Name of Scheme
12th Five-Year Plan
2012-17
Annual Plan
2017-18
Outlay
Expenditure
Outlay
Exp (as on 30/9/17)
1
R&D institutions under Kerala State Council for Science, Technology and Environment
240.20
100.90
63.58
0
2
Infrastructure strengthening of Kerala State Council for Science, Technology and Environment
9.55
2.24
2.26
.37
3
Schemes and Programmes of Kerala State Council for Science, Technology and Environment
116.93
25.42
31.08
7.14
4
Grant in aid support to Science and Technology Institutions
9.90
53.99
1.90
0
5
Biotechnology Development
11.50
6.46
3.05
.66
6
Special Programmes of KSCSTE
13.85
1.23
4.20
.27
7
Karamana River Scientific Management Project
29.00
12.83
3.00
0
8
Other Schemes
4.52
108.59
Total
435.45
11.66
109.07
8.44

Source: Annual Plan Documents, Kerala State Planning Board
Major Physical Achievements during 12th Five-Year Plan
I. R&D Institutions under KSCSTE
Srinivasa Ramanujan Institute for Basic Sciences (SRIBS) was established in 2013 in Pampadi, Kottayam for capacity building of young faculty members, researchers and post graduate students in contemporary areas of sciences.
National Transportation Planning and Research Centre( NATPAC) prepared the Comprehensive Mobility Plan for Thiruvananthapuram and Kozhikode.
Jawaharlal Nehru Tropical Botanic Garden and Research Institute (JNTBGRI) documented and published the complete plant wealth of the Western Ghats.
Centre for Water Resources Development and Management (CWRDM) prepared integrated river basin management plan for Chaliyar basin, Wetland Atlas of Kerala along with CESS and KFRI, introduced and distributed Drinking Water Card in selected Panchayats of the State and established a Water Heritage Museum.
KFRI is one of the organisation, identified by Government of India, for imparting training to the officers of the Indian Forest Service. Major achievement of this institution was bio resource quantification of the State using remote sensing.
II. Schemes/Programmes of KSCSTE
Critical Mineral Research Institute (CMRI), a new initiative, started with the broad objective of conducting high end R and D in the area of beach minerals for value addition and thereby enhancing the industrial technology innovations in this area.
Centre for Assistive technologies for visually impaired started a centre in Farooq College, Kozhikode.
Initiated Karamana River Scientific Management Project.
Initiated Dr. APJ Abdul Kalam Youth Challenge Programme for taking up challenges in specialised sectors.
Launched Varghese Kurian Young Scientist Fellowship.
Review of Major Schemes 2016-17
A. Major Arms of KSCSTE for Scientific Research
There are seven research and development centres under the umbrella of the Council which conducts research and development activities in specific mandated domains. Budgeted outlay for these institutions for 2016-17 was 56.50 crore and 43.38 crore has been incurred in the year.
Kerala Forest Research Institute (KFRI)
The Kerala Forest Research Institute is envisioned as a Centre of Excellence in Tropical Forestry to provide scientific support for decision making on matters related to forestry, with particular emphasis on conservation, sustainable utilization and scientific management of natural resources. Working in collaboration with the Forest department and other stakeholders, the institute continues to play a key role in improving the science foundation of forest management
Major Achievements
Extension Projects
The Bamboo Primary Processing Centre (BPPC) was set up under the Bamboo Technical Support Group with the support of the National Bamboo Mission (NMB).
More than 3,50,000 Quality Planting materials of various timber trees, medicinal plants, habitat specific species, RET plants, wild fruits, indigenous avenue plants etc were developed and supplied to various government departments, farmer clusters, planters and general public.
Twenty four rare and threatened native orchids and ferns were collected.
The Central Instrumentation Unit of KFRI received approximately 1,000 queries for analysis and it could analyse 859 samples. The unit generated an income of 2.7 lakh in 2016-17, which is 59 per cent higher than that of 2015-16.
95 accessions of medicinal plants were collected as part of enrichment of the existing germplasm.
44 plant species were collected through Kerala Forest Seed Centre. The centre also collected 32,258.46 kg seeds, processed 893.30 kg seeds, which were sold for 4.22 lakh.
Research Projects
A database of forestry literature developed under the project titled 'An Information System for Forest of Kerala'. This database consists of 6200 records which include scanned books, reports, and journal articles, working plans, management plans and thesis. Scanned materials are processed and metadata is provided for each record.
Bibliographical citations of 9,600 articles related to Indian Forestry is covered.
Digitization of 5 periodicals are completed.
Developed a digital library for the Teak Museum. Updated the database developed in 2004 by adding 1,200 records.
Fungal Disease survey has been carried out in central nurseries of Kerala.
Mangrove sites in Kerala compiled from published literature and ground truthing done and also completed plot establishment. Mangrove species in these plots were identified and recorded.
National Transportation Planning and Research Centre (NATPAC)
National Transportation Planning and Research Centre (NATPAC) is undertaking research and consultancy works in the fields of traffic engineering and transportation planning, highway engineering, public transport system, alternate options for transport system, transport energy, inland water transport, tourism planning and rural roads. The activities of NATPAC range from surveying to preparation of techno economic studies, feasibility analysis, detailed project reports for infrastructure development projects involving multi-modal system of transportation covering road, rail, water, ports/harbours and airports.
Major Achievements
In 2016-17, NATPAC has carried out 28 Research Projects, 19 externally funded projects and 13 road safety programmes.
A comprehensive Mobility Plan for Thrissur district was prepared.
Prepared GIS-based road and traffic database for the roads in the State.
Ai Pollution Index of the State was developed.
Developed a perspective plan for National Highway sections in Kozhikode division on a demonstration mode.
A growth rate model for National Highways in Kerala has been developed.
Formulated practicable accident prediction models which would describe the expected number of accidents at road links in urban areas.
Developed a methodology to identify and prioritise hazardous locations and to find out the most vulnerable accident stretch using accident date for the past three years.
About 100 road safety projects/programmes pertaining to schools, panchayats, drivers and other road users were competed reaching a target more than 3000 road users.
Studies were done on accidents and other safety related aspects of the inland water ways of the State and prepared a GIS based database management system to compile, store and analyse water related data.
Centre for Water Resources Development and Management (CWRDM)
CWRDM is a premier R and D institution in the water sector under KSCSTE. The Centre provides research inputs for water resources development and management, especially in the humid tropics and has expertise in tackling different problems pertaining to watershed development, wetland management, water management for agriculture, forest and urban hydrology, estuarine management, groundwater development, water quality management, water related environmental issues and irrigation and drainage issues. Presently, CWRDM has 9 scientific divisions and 3 sub-centres.
Major Achievements
CWRDM has prepared Water Security Plan for 13 Grama Panchayats for Jalanidhi Project- Phase II in Malappuram, Kozhikode and Kasaragod Districts.
Prepared Hydrological Information System for the River Basins in Kerala.
Water quality testing and issuance of Water Card is being done routinely based on request from Panchayats/Municipalities/Corporations/other public bodies.
Assessed Water, Sanitation and Hygiene (WASH) facilities in Attappady block under UNICEF Project.
Coordinated the preparation of District Irrigation Plans for Palakkad and Idukki districts under Pradhan Mantri Krishi Sinchai Yojana (PMKSY).
Developed Irrigation Schedule for Coconut and Pepper for different agro- ecological zones.
Management Action plans of Kavvayi and Kattampalli Wetlands were prepared.
Prepared preliminary investigation report for Mitigation Measures for Flood Abatement in upper Kuttanad.
CWRDM have taken proactive initiatives to combat the ill effects of drought during 2016-17 along with adaptation strategies.
The centre has carried out a total of 67 research and consultancy projects in 2016-17. 16 projects have been completed out of which 12 are from external funded agencies.
During the reporting period, CWRDM has published 29 papers in refereed journals, 6 books were published and 44 papers in Conferences.
Jawaharlal Nehru Tropical Botanic Garden and Research Institute (JNTBGRI)
Jawaharlal Nehru Tropical Botanic Garden and Research Institute (JNTBGRI )undertakes research programmes for the sustainable utilization of these resources. The institute is currently conserving more than 4,000 species of flowering plants and about 300 species of non-flowering angiosperms, which is the highest number of plant species conserved among the botanic gardens in Asia. The institute has an extension centre viz., Saraswathy Thangavelu Centre at Puthenthope, Thiruvananthapuram where the Bioinformatics Centre is established. The Government of India has recognized the JNTBGRI as a National Centre of Excellence.
Ethnomedical survey and systematic documentation of Traditional Knowledge among 13 tribal communities in 17 Grama Panchayaths of 3 districts of Kerala State were completed.
Ethnobotanical survey in the coastal areas of three southern districts of Kerala has been completed, based on which 3,069 information were documented including food plants (422), medicine (2117), fodder (132), fishing tools &implements (281), fuel (117) etc.
Phytochemical investigation of oils and fats from endemic plants of the Western Ghats
An integrated R and D centre of JNTBGRI, for promoting green industry is being established at Kuzhoor, Panchayath, Kodungallur, Thrissur District, with the financial support of Kerala State Industrial Development Corporation (KSIDC), GOK.
Published 43 research papers and 3 books.
Kerala School of Mathematics (KSoM)
Kerala School of Mathematics (KSoM) was established in 2009 as a joint venture between KSCSTE, Government of Kerala and Department of Atomic Energy (DAE), Government of India for carrying out advanced learning and research in Mathematics.
The institution had published 4 research papers during the reporting period.
Conducted one outreach programme and organised 12 training programmes/workshops.
Srinivasa Ramanujan Institute for Basic Sciences (SRIBS)
Srinivasa Ramanujan Institute for Basic Sciences (SRIBS) is a capacity building institute envisaged for research, teaching and learning in Basic Sciences. The main objective of the institute is to formulate and implement programmes for capacity building of young faculty members, researchers and post graduate students in contemporary areas of sciences.
The institute has organized colloquia, seminars, workshops benefitting students, teachers and researchers in various areas of science. 6 academic programmes were conducted during 2016.
Malabar Botanical Garden and Institute of Plant Sciences (MBGIPS)
The Malabar Botanical Garden and Institute for Plant Sciences (MBGIPS) is an institution of KSCSTE dedicated to the conservation and research on aquatic plant diversity, lower group plants, endangered plants of the erstwhile Malabar Region, as well as disseminating knowledge on various facets of plant sciences.
Major Achievements
The United Nations University –Institute for Advanced Studies (UNU-IAS), the academic and research arm of the UN, recognised MBGIPS as the Regional Centre of Experts (RCE) in sustainable education.
Bio-fortification garden, a new section demonstrating the vitamin sources in plants was developed.
Exiting palm garden renovated to palm park.
A new section has been started incorporating the spices of Malabar region.
24 Gen-bank submissions of oil degrading bacteria and algae.
Established micro-propogation and reintroduction of 5 RET plants.
As part of the Harithakeralam programme, MBGIPS and Kozhikode block panchayat in association with Forest Department raised 50,000 seedlings of forest trees and fruit crops in 33 beds which were distributed to the general public.
500 specimens have processed and deposited in the MBGIPS herbarium.
8 R&D projects were sanctioned.
Total number of publications during the reporting period is 4.
Academic Achievements of R and D Institutions
Research Publications – The research and development institutions of KSCSTE have been creating the wealth of knowledge in diverse fields. The institutes have produced a good number of publications in refereed journals, published books and chapters in books and research papers in national and international conferences. The number of research papers produced by R&D institutions from 2012 onwards is portrayed in Figure 3.3.1.
Figure 3.3.1
Research Papers Produced by R&D Institutions from 2012 -13 to 2016-17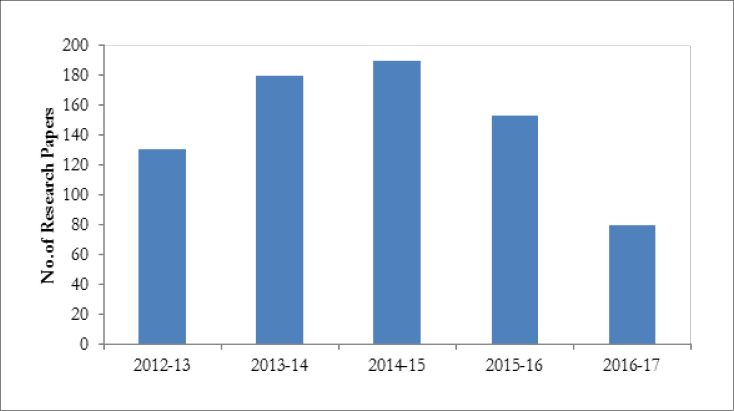 Source: KSCSTE, Sasthrabhavan, Thiruvananthapuram.
Among the seven R and D institutions under the Council, JNTBGRI and CWRDM rank top with respect to the publication of papers in 2016-17.
With respect to the publication of books during 2016-17, JNTBGRI published 3 books and CWRDM published 6 books during the period. CWRDM presented 44 papers in international/national/regional conferences.
Manpower Training
Ensuring sustainable availability of talented youth for science is a challenge. The role of R and D institutions in rearing up research aptitude and talent has foremost importance in orienting the youth to science, technology, innovations and S and T-based solutions that successfully lead an economy or a State. The R and D institutions of KSCSTE have produced 8 PhDs in 2016. The institutes have trained 488 people in research capacities and 170 in technical capacities. Table 3.3.2 provides the performance of the R and D institutions collectively in providing quality manpower, and producing output in terms of patents and technology transferred.
Table 3.3.2
Overall Performance of R&D Institutions
R and D Centre
2012
2013
2014
2015
2016
Ph D Produced
12
10
11
12
8
Research Manpower Trained (other than Ph D)
171
1017
703
534
1086
Technical Manpower Trained
146
283
473
243
488
Patent Filed
1
1
Nil
1
1
Technology Transferred
3

Source: KSCSTE, Sasthrabhavan, Thiruvananthapuram
B. Achievements of Other Schemes and programmes of KSCSTE
An amount of 43.29 crore was provided in 2016-17 for implementing the schemes and programmes of KSCSTE and expenditure incurred was 32.08 crore.
Science Research Scheme (SRS)
It is one of the flagship activities of the Council operating under the Science and Technology Promotion Division (STDP) of the Council. SRS aims towards the promotion of R and D activities in the State both in fundamental and applied research. Under the scheme, research projects in emerging areas of science and engineering are supported by providing financial assistance for implementation. Research projects are supported in University departments, colleges and R and D institutions. A total of 99 projects were granted under this programme in 2016-17. Also, 7 patents filed, 162 papers were published in refereed journals from the supported projects and 40 PhDs were awarded under SRS.
KSCSTE Emeritus Scientist Scheme
The objective of the scheme is to tap knowledge and to provide support to superannuated outstanding scientists to pursue research in their respective field of specialisation and to utilise their talent and experience in addressing State level important issues. During 2016-17, 9 scientists were given Emeritus awards, 11 Ph.Ds were awarded and 54 papers were published from supported projects.
Student Project
Under this project financial support is given to the students of University Departments and Colleges in the State to conduct scientific projects and in 2016-17, a total number of 424 project proposals were received and 204 among them were recommended for financial assistance.
Scheme for Promotion of Young Talents in Science (SPYTis)
The programme is for giving awards for the students of Class VIII-IX for doing a science project (SPYT is I) and for giving financial assistance to those students who have innovative ideas in science and technology and enrolled in polytechnic colleges and undergraduate courses in colleges for conducting projects. During the year 2016-17, financial assistance was sanctioned to 132 projects.
KSCSTE Research Fellowships
Out of the 454 applications received 50 were sanctioned for KSCSTE research fellowships. KSCSTE has introduced 4 special post doctoral fellowships in 2016. 15 Post-Doctoral fellowships and 1 Special Post-Doctoral fellowship was awarded during 2016-17. Figure 3.3.2 shows the achievements of KSCSTE research fellows during 2016-17.
Figure 3.3.2
Achievements of KSCSTE Research Fellows in 2016-17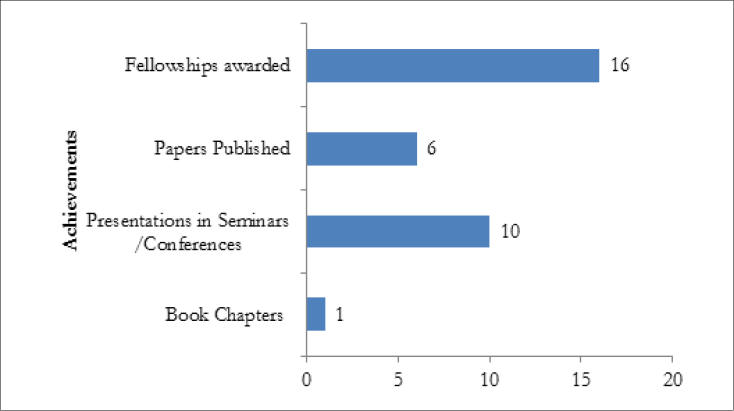 Source: KSCSTE, Sasthrabhavan, Thiruvananthapuram.
Programmes for infrastructure development in S and T
In order to provide sufficient infrastructure facilities in Universities, colleges and schools for the promotion of scientific activities and augmenting research, the Council has been providing financial assistance for the creation of lab and related facilities over there. Selective Augmentation of Research and Development (SARD) and Sastraposhini are the two schemes implemented by the Council for this purpose. SARD is envisaged to create facilities in colleges and Universities for augmenting research in specified areas. Under this programme, grants will be paid for strengthening the laboratory infrastructure by procuring equipments and also for its maintenance. So far, 57 science Post Graduate laboratories and research institutions in the State have been augmented. Sastraposhini scheme aims to establish model science laboratories in Physics, Chemistry and Biology to create a better ambience in high schools. Since the very inception of the scheme, 179 schools in Government and aided sector in the State have been supported to establish good science laboratories. During 2016-17, five Government high schools were selected for implementing this scheme.
Engineering and Technology Programmes (ETP)
The Engineering and Technology Programme (ETP) intends to encourage and promote research talents for the implementation of high quality research projects in the emerging areas of Engineering and Technology. The scheme is instituted for the faculty of engineering colleges and scientists of R&D institutions in the State. During the year 2016-17, an amount of 137.84 lakh was released for the programme and 7 proposals were approved under the programme. Figure 3.3.3 represents the number of proposals received and approved under ETP from 2012-13 to 2016-17.
Figure 3.3.3
Number of Proposals Received and Approved under ETP from 2012-13 to 2016-17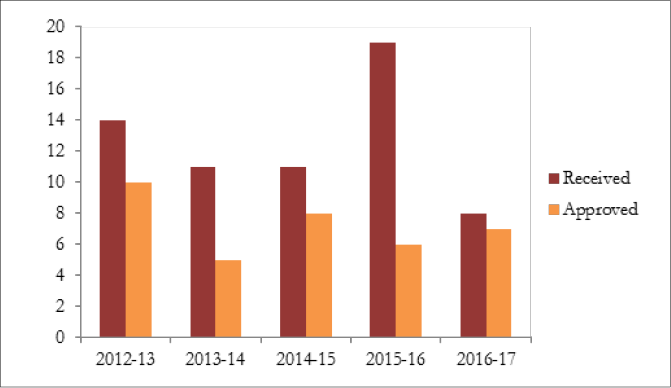 Source: KSCSTE, Sasthrabhavan, Thiruvananthapuram
Technology Development and Adaptation Programme (TDAP)
The very objective of the programme is to provide catalytic support for the development and demonstration of innovative and need-based technologies and to raise such technologies to the level of commercialisation. During 2016-17, eighteen proposals were received of which 11 are sanctioned. Financial support provided was 19.4 lakh.
Rural Technology Programme (RTP)
RTP scheme is instituted for the purpose of providing assistance in the form of grants to promote and support the traditional rural technology and upgrade them, so that it could be perfected for wider applications and employment generations and to reduce the drudgery of the rural households. The main objectives of this scheme are to encourage and promote grassroot innovators and individuals to support them so as to perfect their innovative ideas in rural technology sector and provide technical support to raise their innovations to an enterprise level. During 2016-17, 13 proposals were received and 5 were approved. 19.4 lakh has been provided as financial support for the programme.
Patent Information Centre – Kerala (PIC-Kerala)
KSCSTE with the support of Dept. of Science and Technology, Govt. of India established Patent Information Centre – Kerala (PIC-Kerala) in the year 2003 to provide Intellectual Property Rights (IPR) related services to the people in the State. PIC-Kerala has been implementing many programmes to promote and propagate IPR in the State through awareness campaigns and publications. The Centre has been guiding the inventors in protecting their intellectual properties and facilitating access to patent related documents. The ultimate objective of PIC-Kerala is to increase the IP output of the State. Table 3.3.3 gives the number of filed patent applications.
Table 3.3.3
Number of filed patent applications processed
Year
No. of Patent
Applications Processed
2012-13
87
2013-14
89
2014-15
59
2015-16
60
2016-17
105

Source: KSCSTE, Sasthrabhavan, Thiruvananthapuram
PROGRAMMES FOR WOMEN IN SCIENCE
In Kerala, though the State has the highest women literates, their representation in science research is very low. In order to provide a support system to attract and retain women and girls in science and take up science as a career, the Women Scientists Division at KSCSTE initiated several schemes and programmes to increase their participation in Science, Technology, Engineering, Agriculture and Medicine (STEAM). The important programmes carried out by the Council in this area are
Women in Science
Back to Lab Research Fellowship Programme – 14 projects were sanctioned under the programme, 1 patent application filed, 48 international/national journals published and 6 scholars have completed Ph.D.
Awareness Programme on "Technological advances in transforming women's lives"- 3 programmes were sanctioned under the project.
Project on Preparation of database of "Women in Science in Kerala" – 506 registrations were made in the online directory which is developed for obtaining base-line data on the status of women in various sectors of Science in the State.
STARS (Students with Talent and Aptitude for Research in Science)
Pratibha Scholarship Scheme – 200 students were selected for the scholarship.
SPEED (Student Programme for Excellence in Experimental Design)- The number of sanctioned programme in 2016-17 is 1.
Government Spending on Scientific Services and Research
Recognising the growing need of investments and related expenditure for expansion of the scientific services and research in the State, the government has been allocating funds from the Fifth Five-Year Plan period onwards. During the Fifth Five-Year Plan period (1974-78) the allocation was 7.98 crore which increased to 435.45 crore by the 12th Plan period (2012-17). Table 3.3.4 details the Plan outlay and expenditure from 2012-13 to 2016-17.
Table 3.3.4
Plan Outlay and Expenditure from 2012 to 2017 ( in crore)
Year
Outlay
Expenditure
2012-13
66.20
63.96
2013-14
78.95
51.36
2014-15
91.71
54.64
2015-16
99.79
66.24
2016-17
99.79
75.47

Source: Annual Plan Documents, State Planning Board, Thiruvananthapuram
2. Regional Cancer Centre, Thiruvananthapuram
Globally, common challenges to cancer control are delays in cancer diagnosis and inaccessible treatment. Deaths from cancer worldwide are projected to continue to rise to over 13.1 million in 2030. As per the report of the Indian Council of Medical Research, India is likely to have over 17.3 lakh new cases of cancer and over 8.8 lakh deaths due to the disease by 2020 with cancers of breast, lung and cervix topping the list.
Regional Cancer Centre with headquarters at Thiruvananthapuram is one of the top rated comprehensive cancer centres in the country offering diagnostic and treatment facilities for cancer. Its main objective is to undertake basic, applied and statistical research in various specialities of oncology.
It undertakes basic, translational and clinical research and disseminates knowledge. The centre carries out innovative and pioneering work in cancer control, treatment, research and training.
It is rated amongst the top three of the 28 Regional Cancer Centres in the country and maintains a working relationship with international bodies such as the WHO, International Agency for Research on Cancer (France), International Atomic Energy Agency (Vienna), National Cancer Institute (USA), Institute for Cancer Research (UK), University of Leeds (UK), Health Research Foundation (Japan) and a host of other respected organizations.
Over the past thirty six years, RCC has been able to contribute significantly to the increasing needs of cancer care of the people of the State of Kerala and adjoining areas of Tamil Nadu and Karnataka providing state-of-the-art diagnostic and treatment facilities at the lowest possible cost. In addition, RCC is committed to cancer control activities among the public, human resource generation in the various specialities of oncology as well as cancer research expected to result in new treatments for cancer.
Box 3.3.1
Approach to 13th Five Year Plan
Total science and technology (S&T) expenditure by the Government of India dwarfs the expenditure by State Governments, and over the decade of the 2000s the expenditure by all States on S&T fell from approximately 18 per cent to 16 per cent of total national S&T expenditure. Nevertheless, State-level expenditure on S&T is essential in order to design programmes of research and innovation that are fine-tuned to the needs and potential of the State. State-level S&T investment must improve the capacity of the State Government to attract investment, develop local resources, and facilitate innovation.
Kerala's Plan expenditure in various Plans under the head of Science, Technology, and Environment, has been significant compared to other States. A network of institutions has been developed. An apex agency, the Kerala State Council for Science, Technology and Environment (KCSTE), which coordinates and directs S&T activity through these institutions and also supports a variety of other activities, including science popularisation, has been established. The scope of these activities is evidence of an all-round approach to the development of the S&T in the State. It is recommended that the major focus remain on scientific research carried out in research institutions, University centres, and College departments recognised as research centres. State efforts should complement rather than substitute Central support for S&T.
As the work of the research institutions progresses, it will be necessary to strengthen an appropriate system of regular reviews and quality output in keeping with national and global best practices. Periodic review of existing projects and suitable screening for continued funding is also necessary. New departments or organisations for research are best located within higher education or other existing research institutions, in order to gain advantages of scale. An adequate system of peer review, project evaluation, and timely delivery must also be ensured for research projects, research grants, and fellowships granted by the KCSTE.
Kerala's S&T profile is also enhanced by the significant number of centrally-funded institutions in the State. These are a valuable resource that can augment the capacities of State-level S&T institutions, and development in general.
Strength of regions that are global leaders in S&T is the industry-academia-government link that drives the growth of S&T-based value-addition in the industrial sector and the close connection between research institutes and the university sector. The Government will promote coordination and collaboration between research institutes and the higher education system.
A diverse and inclusive human resource base is of much value for S&T. The Government supports all efforts to improve women's participation and participation by persons from the Scheduled Castes and Tribes in the S&T sector.
Box 3.3.2
2017 WHO Cancer Resolution
2017 WHO Cancer Resolution: Cancer prevention and control in the context of an integrated approach
World Health Organisation in its World Health Assembly held on 30 May 2017, adopted a draft resolution on Cancer prevention and control in the context of an integrated approach and proposed that such an approach to cancer prevention and control is required if governments are to achieve related Sustainable Development Goal targets by 2030, namely target 3.4 to reduce premature mortality from non communicable diseases (NCDs), including cancer, by one third and target 3.8 to achieve universal health coverage. The resolution lays out a clear road map for stakeholders to realize the potential for prevention, early diagnosis, prompt treatment and palliative care for people with cancer. The resolution also calls for the development of a global report on cancer containing evidence-informed guidance for scaling up cancer prevention and control.
Source: World Health Organisation
12th Five-Year Plan
During the 12th Five-Year Plan period, 229.43 crore has been provided as outlay for Regional Cancer Centre and expenditure was 106.71 crore (47 per cent).
Major Physical Achievement during 12th Five-Year Plan
Expansion of Physical Infrastructure
Constructed a new 10 storey building to accommodate the increase in patients. The building accommodates all Outpatient Departments, Nuclear Medicine Division, Chemotherapy wards, Medical Records, Academic Offices, Cancer Epidemiology, Administrative Offices etc.
Purchase of PET-CT Scanner, SPECT Gamma Camera, 4D CT Scanner and High-end USS machine, setting up of Digital Radiography, Portable Xray Dexa Scanner, Endoscopy systems, Molecular Genetic Facility and Upgradation of Telemedicine facility.
Table 3.3.5
12th Five-Year Plan (2012-17) Year-wise Outlay ( in crore)
Year
Outlay
Expenditure
Expenditure( per cent)
2012-13
34.00
34.00
100
2013-14
42.17
42.17
100
2014-15
40.40
20.00
50
2015-16
53.50
00
00
2016-17
59.36
10.54
18
Total
229.43
106.71
47

Source: Annual Plan Documents, State Planning Board, Thiruvananthapuram
Research and Training
Basic, Epidemiological, Translational, Clinical and Integrated research with other systems of medicine - 155 ongoing research programmes and 30 ongoing doctoral research programmes.
Over 1700 articles (80 per cent in indexed peer reviewed journals) and 600 chapters in books/conference papers.
489 articles and 139 chapters in books in the last 5 years.
79 PhDs (23 in the last 5 years).
Welfare Programmes
RCC has implemented several schemes for providing economic assistance, free food, free drugs and various rehabilitation facilities for patients and their families through governmental and non-governmental support programmes. Both the Central and State Governments have initiated several generous schemes to ensure free or subsidized treatment for patients.These schemes include Sukrutham, Cancer Suraksha Scheme, Chis Plus, Karunya Benevolent Fund, Thalolam, Scheduled Tribe Patient Fund, Snehasanthwanam for Endosulfan Victims, Prime Minister's Relief Fund, Health Minister's Rashtriya Arogya Nidhi (RAN) and Health Minister's Discretionary Fund.
Started 'Institute of nuclear medicine' and "Centre for Holistic Medicine" in Regional Cancer Centre (RCC).
Cancer Care for Life (CCL) Scheme – This is a health insurance scheme for cancer treatment. Considering the large response from the public, the RCC has been modifying the scheme.
Other initiatives like free drug bank, free food ("Akshayapathram'') to poor patients.
"Kinginicheppu" – free food and treatment to poor paediatric patients through voluntary contributions.
Upgradation of RCC as State Cancer Institute
Under the National Programme for Prevention and Control of Cancer, Diabetes, Cardio Vascular Diseases and Stroke (NPCDCS), the Union Government had approved a project costing 120 crore for up gradation of RCC as State Cancer Institute on cost sharing mode of 60:40 between Government of India and Government of Kerala. An amount of 46.95 crore has been released as central share as first instalment of the scheme in 2016-17. The State Government provided 31.31 crore in 2016-17 and 10.56 crore in 2017-18 as State share
Review of Activities by RCC in 2016-17
Table 3.3.6 provides the profile of the RCC in 2016-17.
Table 3.3.6
Profile of RCC in 2016-17 at a Glance
New Cases Registered
16255
Review Cases Registered
234271
In-patient Admissions
11416
Radiotherapy
7141
Brachytherapy
1482
Surgical Procedures
6539
Endoscopic Procedures
2045
Chemotherapy Administered
10572
Bone Marrow Transplantations
41
Cancer Detection Programmes
423
Cancer Education Programmes
280
Ongoing Research Projects
155

Source: Regional Cancer Centre, Thiruvananthapuram
The number of new cases registered in RCC from 2012-13 to 2016-17 is shown in Table 3.3.7. Figure 3.3.4 gives the incidence of cancer to human body parts detailed as percentage of new patients registered in speciality clinics in 2016-17 periods.
Table 3.3.7
Number of New Cases Registered in RCC during the last 5 years (2012-13 to 2016-17)
Year
No. of new cases
registered
2012-13
14958
2013-14
14903
2014-15
15999
2015-16
16042
2016-17
16255
Total
78157

Source: Regional Cancer Centre, Thiruvananthapuram.
Figure 3.3.4
Speciality Clinic-wise Number of New Patients Registered in 2016-17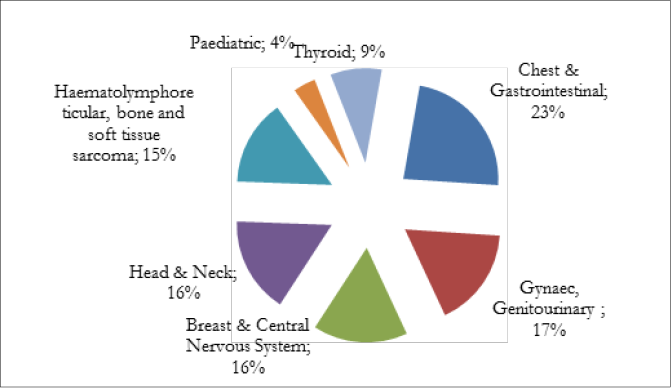 Source: Regional Cancer Centre, Thiruvananthapuramm
The highest percentage of new cancer cases registered were respect to Chest and Gastrointestinal cancers during the reporting period and followed by Gynaec, Genitourinary and Breast and Head and Neck cancers. Table 3.8.8 provides number of new and review Patients undergone treatment in speciality clinics in the year 2016-17.
Table 3.3.8
Speciality clinic wise number of Patients (New and Review) undergone treatment 20161-17
Clinic
New
Review
Total
Chest and Gastrointestinal
3782
35009
38791
Gynaec, Genitourinary
2764
33259
36023
Breast and Central Nervous System
2621
48567
51188
Head and Neck
2668
33773
36441
Haematolymphoreticular, bone and soft tissue sarcoma
2378
45996
48374
Paediatric
620
21924
22544
Thyroid
1422
15843
17265
Total
16255
234371
250626

Source: Regional Cancer Centre, Thiruvananthapuram.
The details of age and sex wise number of new cases registered reveals that people in the middle ages are more prone to cancer diseases. About 28.8 per cent of male in the age group 55-64 are affected by cancer whereas the age group in the case of women is slightly lower than this ie. 24.5 per cent. Female are affected by cancer during the years 45-54(25.1 per cent). Figure 3.3.5 illustrates age and sex-wise new cancer patients registered for treatment in RCC in 2016-17.
Figure 3.3.5
Age- and Sex-wise New Cases Registered in 2016-17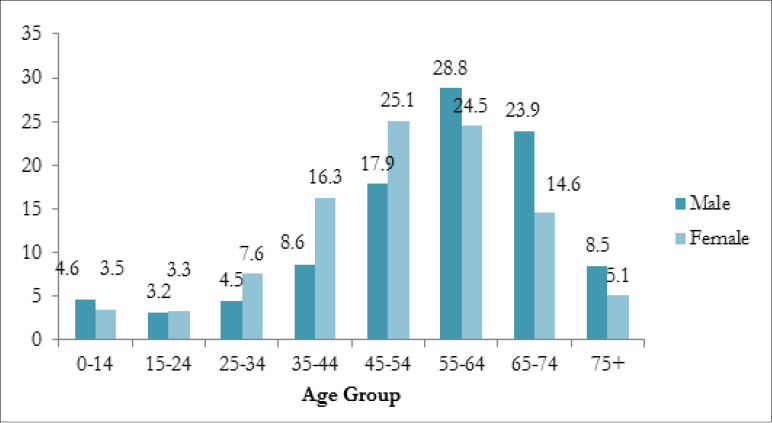 Source: Regional Cancer Centre, Thiruvananthapuramm
System-wise (per cent) Distribution of Cancer Patients, by Gender
Table 3.3.9 depicts the number of new cases registered in different speciality clinics and Table 3.3.10 depicts the system wise percentage distribution of cancer patients by gender. Irrespective of the gender disparity in certain type of cancers, the incidence of oral cavity and pharynx cancer, cancers to respiratory system etc. mostly affects men than women.
Table 3.3.9
Number of New Cases Registered in Different Speciality Clinics (Gender-wise)
Clinic
Male
Female
Chest and Gastrointestinal
2698
1084
Gynaec, Genitourinary
986
1778
Breast and Central Nervous System
224
2397
Head and Neck
2016
652
Haemato Lymphoreticular, bone and soft tissue sarcoma
1419
959
Paediatric
348
272
Thyroid
266
1156
Total
7957
8298

Source: Regional Cancer Centre, Thiruvananthapuram.
Table 3.3.10
New Cases Registered in Different Speciality Clinics (Gender-wise), in per cent
System
Male
Female
Brain and Nervous System
2.4
1.9
Oral Cavity and Pharynx
19.5
6.8
Thyroid
3.9
15.6
Respiratory System
19.5
3.6
Breast
0.5
28.3
Oesophagus and Stomach
8.1
3.3
Other Digestive Organs
13.1
6.8
Urinary Tract
3.7
1.1
Reproductive System
5.9
17.2
Bone, Conn. tissue and Skin
4.1
2.7
Leukaemia and Myeloma
9.4
7.2
Lymphoma
7.4
3.6
All Others
2.8
1.9

Source: Regional Cancer Centre, Thiruvananthapuram.
The site wise distribution of patient registeration by gender HBCR, RCC, Thiruvananthapuram in 2016-17 is given in Table 3.3.11.
Table 3.3.11
Site-wise Distribution of Patient Registration by Gender HBCR, RCC, Thiruvananthapuram (2016-17)
Site
Male
Female
Total
No
per cent
No
per cent
No
per cent
Invasive cancers
7172
90.2
7329
88
14501
89.2
Non-invasive (in-situ, borderline, bengine, non-neoplastic, suspicious etc:
785
9.8
969
12
1754
10.8
Total Registered
7957
100
8298
100
16255
100

Source: Regional Cancer Centre, Thiruvananthapuram.
Out of the total 16,255 cases registered in 2016-17, invasive cancer patients were 14,501 and 1,754 were non invasive cancer cases.
Referral System
RCC is a tertiary level referral hospital and patients were referred from other government and private hospitals. A total number of 16,255 cases were referred to RCC during 2016-17. Most of the cases were referred from Thiruvananthapuram district (3757 cases), followed by Kollam(2,782), Malappuram(1,112), Palakkad(1,037) and Alappuzha (933). In addition to this, 1908 cases were referred from Tamil Nadu, 29 from Karnataka,15 from Lakshadweep and 56 from other Indian States. 178 persons from Maldives and 16 from Middle East were also referred.
Central and State Government Schemes
Both Central and State Governments have initiated various generous schemes to ensure free or subsidised treatment for patients. Details are given below:
Table 3.3.12
Central and State Government Schemes (2016-17)
Sl. No
Scheme
Patients enrolled (new cases)
Total no. of people benefited
Amount spent (in lakh)
1
Prime Minister's Relief Fund
204
953
180.49
2
Health Minister's Rashtriya Arogya Nidhi (RAN)
505
2053
263.73
3
Health Minister's Discretionary Fund
15
.42
4
Indian Cancer Society
26
202
35.37
State Government Schemes
5
Cancer Suraksha Scheme
541
4390
602.68
6
Chis Plus
5232
27210
1416.25
7
Karunya Benevolent Fund
4179
17349
2929.58
8
Sukrutham
2585
6043
1654.61
9
Thalolam
13
83
4.74
10
Scheduled Tribe Patient Fund
24
305
24.11
11
Snehasanthwanam for Endosulfan Victims
3
37
4.22
Total
13312
58640
7116.2

Source: Regional Cancer Centre, Thiruvananthapuram.
Major Initiatives of RCC in 2016-17
In addition to the Government supported schemes RCC provides support to patients and families through various other schemes as detailed below:
Cancer Care for Life (CCL) Scheme – This is a health insurance scheme for cancer treatment. During the year 2016-17, 179 patients reported for treatment under the scheme.
Free Drug Bank – The Free Drug Bank functions according to specific guidelines and is monitored by a committee constituted by the Director, RCC. The drug bank provided full or partial help to 3440 patients during the reporting period.
Free Food ("Akshayapathram") – Free food was provided to 6750 patients belonging to low socio-economic status during the report period with the support of many philanthropic organizations.
Support for Paediatric patients – "Prathyasa," a voluntary group working in collaboration with Paediatric Oncology division gave financial and psychosocial support to children and their families.
Indian Cancer Society Support Scheme – RCC was selected as one of the five cancer centres across India for receiving financial support from the Indian Cancer Society for treatment of cancer.
Research and Development Activities
The RCC as a pioneer research institution in cancer research has produced several PhDs in Cancer Research. During the year 2016-17, around 25 scholars were pursuing PhD, 33 residents undertook specialisation in Medical, Paediatric and Surgical Oncology super speciality courses and 49 residents undertook postgraduate courses in Anaesthesia, Pathology, Radio diagnosis and Radiotherapy in the centre. The centre is also undertaking 155 research projects.
Cancer Control Activities in 2016-17
Trainer-Trainee Programmes – RCI conducted 53 trainer-trainee programmes for health care providers which included doctors, post graduate medical students and paramedical staff from governmental and non-governmental institutions and 2,352 people were trained.
International School of Colposcopy – 8 Gynaecologists were given one-week hands on training and 151 BSc (MLT) students were given one day orientation programme on VIA, VILI and Colposcopy.
Early cancer detection, 2016
During the period under report, 10483 persons attended the Early Cancer Detection Clinic of the Division and 7111attended outreach camps.
Cancer Outreach Programmes -2016
RCI conducted 102 cancer detection camps in various parts of the State in which 9223 people underwent screening. 6971 trainees were sensitised in cancer contro l through 48 cancer awareness programmes and also 10 cancer awareness programmes and nine cancer detection camps were conducted in Idukki District.
Conclusion
It is essential to give prime importance for early cancer detection for which doctors of primary and community health centres have a major role to play. Hence more involvement of government agencies is required. It is also necessary to carry out Community based research activities in primary and secondary prevention of cancers on large scale.