Industry- MSMEs
The MSME sector has emerged as a vibrant and dynamic sector of the Indian economy. MSMEs play a crucial role in providing large employment opportunities given their comparatively low capital costs and their forward-backward linkages with other sectors. MSMEs are complementary to large industries as ancillary units, and this sector contributes significantly to the socio-economic development of the country. The sector consisting 36 million units, as of today, provides employment to over 80 million persons. MSME contributes 6 per cent to the country's GDP, 33.0 per cent to value added by the manufacturing sector and 45 per cent to the country's exports. (Source: Annual Report 2016-17, Ministry of Micro, Small and Medium Enterprises, Government of India).
Micro Small and Medium Enterprises (MSMEs) in India
The MSME sector in India is diverse in terms of size, levels of technology employed, and products. As per the estimates made using results of the Sixth Economic Census (EC), 2013, the Fourth All India Census of MSME, 2006-07 and Fifth EC, 2005, the number of MSMEs and employment in MSME sector are 5,12.99 lakh and 1,112.28 lakh respectively. (Source: Annual Report 2016-17, Ministry of Micro, Small and Medium Enterprises, Government of India).
State Profile of the MSME Sector
Kerala, with its excellent connectivity, communication network, availability of highly skilled human resources and relatively good industrial infrastructure, is highly suited for the growth of the MSME Sector. The MSME sector helps in industrialisation of rural and backward areas and provides employment to youth and socially disadvantaged groups such as SC, ST, women and physically challenged persons. The sector contributes to the socio-economic development of the State.
The Directorate of Industries and Commerce (DIC) acts as a facilitator for the growth of the MSME and traditional industrial sectors in Kerala. The agencies under the Directorate are: Directorate of Handloom and Textiles, Directorate of Coir Development and Khadi and Village Industries Board.
Udyog Aadhar Memorandum (UAM) in the State
Under the UAM scheme, which was notified in September 2015 under section 8 of the MSME Development Act 2006, MSME entrepreneurs need to file an online entrepreneurs' memorandum to instantly get a unique Udyog Aadhaar Number (UAN).In Kerala, DIC discontinued the practice of filing EM Part II from September 18, 2015, and in its place, started online registration in Udyog Aadhar. As on March 31, 2017, the total number of Udyog Aadhar Memorandums filed was 34,518 under which the number of micro, small and medium units in the manufacturing sector were 21011, 3014 and 141 respectively (totalling 24166 numbers). In addition, there were 8341, 1952 and 59 micro, small and medium units in the service sector (amounting to a total of 10352 numbers).The details are given in Appendix 3.1.17. (Source: www.udyogaadhar.gov.in and DIC).
Performance of the Sector in Kerala
According to DIC, 15535 new MSME units were started in Kerala in 2016-17 with a total investment of 138,711.73 lakh, and generating employment for 57,445 persons. Ernakulam occupies the top position with 2267 new units and 8981 employees in the MSME sector. Wayanad was at the lowest position with 216 new MSME units, generating employment for 634 persons. The details are given in Appendix 3.1.18.
Financial Status
A total of 1,691.98 crore was provided for the development of the MSME sector in the 12th Five-Year Plan period and the expenditure incurred was 152.38 crore (90.02 per cent).
Figure 3.1.7
Number of Micro, Small and Medium Units Registered Under Manufacturing and Services Sector, 2016-17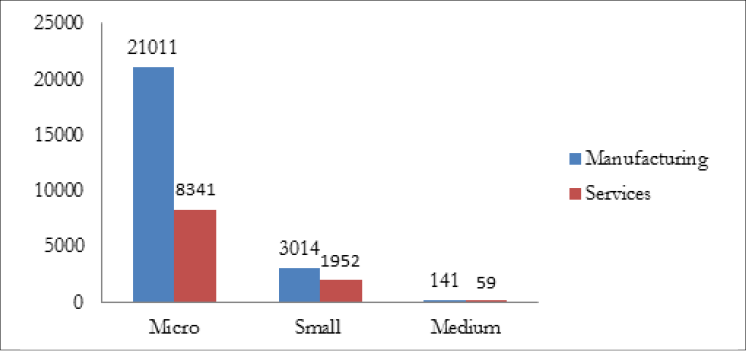 Source: Budget Estimate
Box 3.1.6
Sixth Economic Census, 2013
According to the Sixth Economic Census, non-agricultural enterprises constitute 77.6 per cent of all establishments in the country. Non-agricultural enterprises, including both MSMEs and large establishments, employed a total of 108.4 million persons. They accounted for 82.6 per cent of the total employment in agricultural and non-agricultural establishments. The top 10 States (West Bengal, Uttar Pradesh, Maharashtra, Tamil Nadu, Andhra Pradesh, Kerala, Rajasthan, Gujarat, Karnataka and Madhya Pradesh) account for more than 70 per cent of the total number of establishments and employment in the MSME sector. Establishments in rural areas account for just over 50 per cent of total number of MSME establishments (Source: Annual Report 2016-17, Ministry of Micro, Small and Medium Enterprises, Government of India).
State Budget (2017-18)
The MSME sector of Kerala has consistently registered higher growth rate compared to other sub sectors in the industrial sector.
In the Budget 2017-18, an outlay of 404.46 crore was provided for Village and Small Enterprises and the expenditure up to August 30, 2017 was 132.84 crore (32.84 per cent).
In the Annual Budget 2017-18, an amount of 138.00 crore is provided under the MSME Sector. Due importance was given to gender budgeting. The strengthening of linkages between universities/research institutes and industry/enterprises is the new scheme taken up in the year 2017-18. The details are given in Table 3.1.6.
Table 3.1.6
Outlay and Expenditure of Village and Small Enterprises During 12th Plan and Annual Plan 2017-18 ( in lakh)
Sl. No.
Sector/Sub sector
12th Five Year Plan
(2012-17)
Annual Plan
(2017-18)
Village and Small Enterprises
Outlay
Expenditure
Outlay
Expenditure
i
Small-scale Industries
39692.0
29688.9
12806.0
3985.6
ii
Commerce
1015.0
1002.3
400.0
272.3
iii
Handicrafts
2375.4
3950.2
595.0
206.8
Sub Total (MSME)
43082.4
34641.4
13801.0
4464.6
iv
Handloom and Powerloom
34985.5
40440.6
7192.0
973.3
v
Coir industry
56294.9
44859.9
12812.0
1400.6
vi
Khadi and village Industries
6735.2
6236.2
1691.0
31.4
vii
Cashew Industry
28100.0
26149.9
4950.0
6415.0
Total
(Village and Small Enterprises)
169198.0
152328.1
40446.0
13284.9

Source : Budget 2017-18 and Planspace
Major State Plan Schemes and Achievements
In 2016-17, State Government implemented various schemes successfully for improving the industrial environment of the State through development of industrial infrastructure, promotion of entrepreneurship and by providing skill development. Following are the major schemes and achievements.
Infrastructure Development Schemes
These schemes intend to promote development of infrastructure in the industrial parks, estates, development areas/plots (DA/DPs) including roads, power, water and facilities for waste management. There are also plans to develop new multi-storied industrial estates, industrial parks, and common facility centres for clusters. In 2016-17, construction works were started in the industrial estates at Veli, Shoranur, Punnapra, Puzhakkalpadam (II phase) with an estimated cost of 92.83 crore. Road construction work for the internal roads in 11 DA/DPs was completed at an estimated cost of 32 crore. This will benefit 1000 new enterprises. 4.05 crore has been provided for the II phase infrastructure development of 8.55 acre industrial estate at Varavoor in Thrissur District. An outlay of 25 crore was provided under the scheme for the year 2016-17.
Capacity building programme
The scheme intends to promote entrepreneurial/industrial promotional activities and skill development training for MSME. Under the scheme following events were conducted:
Entrepreneurial Development Programmes (EDPs) in 14 Districts, 616 entrepreneurs participated and started 118 new units.
100 Employee Assistance Programmes (EAPs) and 15460 participants attended.
Started 196 Technology Clinics in 14 districts and 877 participants attended.
Started 15,535 new industrial units thereby by creating 57,000 new jobs.
An outlay of 750 lakh was provided in 2016-17.
Entrepreneur Support Scheme (ESS)
The scheme intends to provide extensive support to MSMEs and give one time support to entrepreneurs, especially women and persons belonging to SC and ST community. In 2016-17 a total amount of 46.32 lakh was sanctioned to 1,101 enterprises. An outlay of 4,500 lakh was provided in 2016-17 under ESS.
Industrial Co-operative Societies
In Kerala, the total number of working industrial co-operative societies as on 31st March, 2017 was 430 as against 402 in the previous year (7 per cent increase). Out of 430 societies, 103 Societies were registered by women. The details are given in Appendix 3.1.19. Thirteen societies were registered in 2016-17.
Industrial Development Plot/Areas
The Directorate of Industries and Commerce (DIC) develops infrastructure facilities for small scale industries in the State. At present, there are 37 development area/development plots under DIC, having a total acquired area of 2,443.57 acre. A total of 2,595 units are functioning in these DA/DPs in 2016-17 compared to 2,563 in the previous year. The details are given in Appendix 3.1.20.
Mini Industrial Estates
As on 31.3.2017, there were 89 mini industrial estates and 777 SSI units in these estates, providing total employment to 3,400 persons. The details are given in Appendix 3.1.21.
Industrial Estates under SIDCO
Kerala Small Industries Development Corporation (SIDCO) provides infrastructure facilities such as land, work shed, water, distribution of scarce raw material to the units in the small scale sector. There are 17 major industrial estates, which comprise 857 working units, under the administrative control of SIDCO. These working units provide employment to nearly 7,456 people (as on August 31, 2017). Besides, there are 36 mini industrial estates and 7 Industrial Parks (source:http://www.keralasidco.com) under SIDCO in which about 1,339 employees are working in 304 working units all over the State. The total turnover of SIDCO in 2016-17 was 312.34 crore. It is suffering losses from 2012-13 onwards. Details of industrial estates under SIDCO are given in Appendices 3.1.22, 3.1.23 and 3.1.24.
Promotional Events/Exhibitions – Achievements of the MSME sector in 2016-17
The Directorate of Industries and Commerce conducted/participated in 16 Exhibitions/Fairs/Expos inside Kerala with 904 stalls in 2016-17 and generated an income of 0.93 crore. Three exhibitions were held in Kasargod, two in Thrissur and one each in other 12 districts. The maximum number of stalls, 422, was put up in Kasargod district. DIC represented Kerala in one international exhibition outside Kerala with 136 stalls. Details are given in Appendix 3.1.25. Following are the major promotional activities undertaken by the Department of Industries in 2016-17.
Organised Vyapar 2017 (Kerala Business to Business Meet) at Bolgatty Palace and Island Resort, Kochi from February 2 to 4, 2017 focusing on the Small and Micro Enterprises of Kerala.
Participated in Aahar 2017, New Delhi (March 7 to 11, 2017) and Food Hospitality World 2017, Bangalore (August 9 to 11, 2017).
Organised the 5th Indo Ceylon Economic (ICE 5) Dialogue in Colombo, Sri Lanka on August 11, 2016 in association with the Federation of Indian Chambers of Commerce and Industry (FICCI) and Federation of Chambers of Commerce and Industry of Sri Lanka (FCCISL).
Distributed MSME State/District level award 2013-14 on July 20, 2016 at Thiruvananthapuram.
Conducted One Time Settlement for Margin Money Loan. 592 cases settled and 52,087,351 lakh have been collected.
280 Entrepreneurs Development Clubs (EDCs) conducted Entrepreneurs awareness campaigns. 7,000 students participated.
Started 13 new Business Incubation Centres.
Distributed Kerala Artisans award 2015-16 in 2016-17, and distributed 447,600 as pensioners benefits to old aged artisans.
Programmes started for launching at least one cluster in each district.
Industrial Financing for the MSME Sector
State Level Bankers' Committee (SLBC)
As per the State Level Banker's Committee (SLBC) report, the outstanding bank credit by the commercial banks in Kerala to various sectors increased to 256,075 crore at the end of March 2017, against 232,417 crore in the previous year, an increase of 10.17 per cent. The outstanding flow of credit to the MSME sector in March 2017 was 39,408 crore, a decrease of 0.13 per cent, compared to 39,463 crore in March 2016. The status of flow of credit to various sectors is given in Appendix 3.1.26.
The Small Industries Development Bank of India (SIDBI)
The Government encourages SIDBI to refinance credit institutions, which provide unsecured loans, at reasonable interest rates, to borrowers based on their transaction history. The outstanding assistance to the MSME sector through various products was 4.51 crore as on March 31, 2017. Details are given in Appendix 3.1.27.
Kerala Financial Corporation (KFC)
KFC is another source for providing financial assistance to MSME and other sectors.The Kerala State Financial Corporation's (KFC's) main focus during the year was to accomplish maximum growth on the recovery front. Total recovery in 2016-17 was 874.28 crore compared to 758.26 crore in 2015-16. The Corporation sanctioned financial assistance of 385.31 crore in 2016-17 when compared to 1,025.99 crore in 2015-16. The operating profit of the Corporation stands at 7.87 crore and net profit at 5.69 crore. (Source: Annual Report 2017, Kerala Financial Corporation).
Industrial Cluster Development
Industrial clusters have an important role in the promotion of small and medium-sized enterprises mainly due to their inclusiveness, technology absorption, efficiency improvement and availability of common resources. The Ministry of Micro, Small and Medium Enterprises (MSMEs) adopted the cluster approach as a key strategy for enhancing the productivity and competitiveness as well as capacity building of small enterprises.
The State has already adopted the cluster development approach for industrialisation to reap the benefits of agglomerations through transformation of the traditional systems of activities or industrial districts to new networks ready for competition and innovation. The State supports cluster development through MSME-DI, Government of India, Thrissur and Kerala Bureau of Industrial Promotion (K-Bip). The Common Facility Centres (CFC) which are in various stages of development in the State are in the areas of wood, plywood, furniture, rubber, textile, rice mill, plastic, printers, ethnic food, agriculture implements and general engineering. Ministry of MSME under the Scheme is assisting 19 Cluster CFC in Kerala. MSME-DI, Thrissur is actively engaged in the promotion and development of clusters in the State in close liaison with the State Government and other stakeholders. In principle approval was given for Plywood Cluster, Muvatuupuzha. A new cluster consortium was formed by All Kerala Steel Furniture Manufacturers Association, Okkal, Kalady, Ernakulam under MSE-CDP Scheme.(Source: Annual Report 2016-17, MSME Development Institute, Thissur).
Promoting Entrepreneurship and Skill Development
Promotion of local entrepreneurship can help improve and create more sustainable consumption and production systems. Entrepreneurial education fosters innovation and helps entrepreneurs build better products, processes, and services. It is especially effective when it takes into account the social, economic and ecological complexities of development, the values of sustainability, and a long-term perspective. The details of skill development and training institutes are given in Table 3.1.7.
Table 3.1.7
Skill Development and Training Institutes in Kerala
MSME Development Institute, (MSME-DI), Thrissur, Government of India
The institute under the Ministry of MSME, Government of India provides techno-economic and managerial consultancy services to the MSME sector in Kerala and the Union Territory of Lakshadweep. It also conducts various training programmes viz. Industrial Motivation Campaigns, Entrepreneurship Development Programme (EDPs), Entrepreneurship Skill Development Programme (ESDP), Management Development Programmes (MDPs) and Skill Development Programmes under PD Account (SDPs).During 2017-18 (up to 31.8.2017), 2 courses were undertaken and 51 persons were trained under ESD Programme.
Kerala Academy of Skill excellence (KASE)
Government of Kerala has setup three Kaushal Kendras under KASE at Kollam, Kozhikode and Palakkad to provide career guidance and industrial training to young workers, improving their employability. As on 31.8.2017, 359 persons were trained in 245 various training programmes.
Kerala Institute of Labour and Employment (KILE)
Constituted by Government of Kerala, KILE is an institute for training and research in labour and allied subjects. During 2016-17 various programmes were conducted by KILE including Training, Workshops, Seminars, Publications and Research studies. The beneficiaries through these programmes were 2251. During 2017-18, 13 programmes were conducted (as on 31.8.2017) and the beneficiaries are 766, which is 34.02 per cent higher than the previous year.

Source: Directorate of Industries and Commerce
Staff training and the vocational and continuous on-the-job training ensures a constant upgrading of workers' skills. In India, the Ministry of Micro, Small and Medium Enterprises provided entrepreneurship and skill development training to 1.69 million persons during the 11th Plan and 1.16 million persons during the first two years of the 12th Plan through various institutions such as MSME-Development Institutes, KVIC, Coir Board, and National Small Industries Corporation (NSIC). MSME-Development Institute (MSME-DI), Thrissur, Government of India has conducted 49 courses in 2016-17, benefitting 9,548 potential entrepreneurs. In 2017-18 (up to 31.8.2017), 14 courses were undertaken and 1,582 persons benefitted from the skill development programmes. Details are given in Appendix 3.1.28.
Financial Package for rural industries- Prime Minister's Employment Generation Programme (PMEGP)
'Prime Minister's Employment Generation Programme (PMEGP)' is a credit linked subsidy scheme at the national level, which aims to generate employment opportunities by setting up of micro-enterprises in the non-farm sector in rural as well as urban areas. In 2016-17, the banks sanctioned 783 applications and provided margin money of 991.88 lakh. The comparable figures for 2015-16 were 26 applications and 109.62 lakh respectively. Details are given in Appendix 3.1.29.
New Initiatives
Vyavasayajalakam – Kerala MSME Geo Portal
The geo-portal for MSME ventures, "VyavasayaJalakam" is designed to gather data about industrial ventures in the State and about the problems that they face. Officials from the Department will directly gather data from the ventures and generate a GPS-enabled industrial map of the State. Information has been gathered from 34,420 units till now.
Kerala State Wide Area Network (KSWAN) integration scheme
The KSWAN integration scheme has been designed to enhance basic IT amenities in all the District Industries Centres in the State. With the implementation of the project, each official handling a file at the district office would have KSWAN facility, telephone connectivity and UPS power backup.
Launching of New Website
The directorate website (www.industry.kerala.gov.in) has been redesigned to include details about the single window system of the department, business incubation centres, training programmes, and MSME awards. Details regarding the handicraft industry, links to the micro-websites of all 14 district industries centres and details about the department's online scheme would be available in the new website
The Land Management System
The Land Management System has been put in place to enable submission of online applications for allotment of land or industries from 2,500-plus acres of land with the department. In the first phase applications for land would be accepted only online.
IT-enabled support facilities
Steps are being taken to implement the e-office in the Directorate of Industries and Commerce. The aim is to eliminate paper files. The filing and subsequent actions of applications under entrepreneurial aid scheme were done through online process.